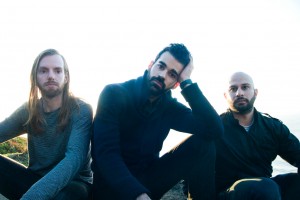 It's been a transformational journey for indie rockers Geographer. In four years, the San Francisco based trio has released three critically lauded albums, played dozens of sold out shows and was named by Spin Magazine as one of the "Three undiscovered bands you need to hear now." Indeed, the blissful electro-pop group has bolstered an impressive name for itself in a short period of time, and is continuing to make waves with their ever-burgeoning sound.
Having recently returned to the Bay Area between tour stops, the band is using its home base to continue writing new material for its upcoming 2014 album. Via phone, lead vocalist Mike Denni discussed the band's relentless creative process. "We're always working on new songs whenever we're home," he says.
"I enjoy working on new stuff all the time. Once spring comes, we'll be on tour for the rest of the year, so this time is good for writing."
Geographer's last album release Myth, is a contagious mix of upbeat dance and rich, emotional lyrics. It's the kind of album that induces unconscious movement, but can also revel in the deep intricacy of its haunting themes.
"Myth was an album where we really settled down, and we didn't feel the need to have fireworks on display at all times," Denni says. "We tried to have an album with ebbs and flows. There was a darkness to that album, but it was the first time we felt we were making the music we wanted to make. It was a journey."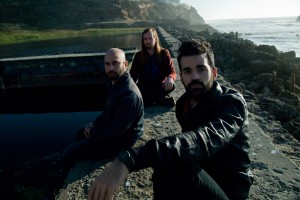 And that journey has been a fast and furious one, sparking a spurt of evolutionary growth among the band's odyssey. Geographer's story began in Denni's mother's basement in New Jersey, where the singer-songwriter lived before making the move out west.
"I was recording songs at home, just trying to get some demos going. Mainly acoustic stuff. I thought about moving to New York, but it seemed a little too intimidating for me, so I decided on San Francisco instead. It seemed chill."
That decision proved to be fateful. From that point, Denni was introduced to (former band member) Kasey Johansing, who introduced him to current members Nate Blaz and Brian Ostreicher.
In 2008, Geographer recorded its first album, Innocent Ghosts. Full of synth electro beats, haunting guitar twangs and waning cello strings, the album's themes loomed heavily around love and loss.
"Innocent Ghosts was a very honest record, in that it was so raw and innocent. We didn't scrutinize everything and put it under a magnifying glass; there were a lot of empty spaces that could have been better realized."
The band's second record, Animal Shapes, provided insight into a more mature and refined sound honed by the invaluable experience playing together as a live unit.
"Animal Shapes was really special in that we took what we learned from playing small shows and clubs, and created an album that excited people," says Denni. "There's lots of moments on that album that are built for the rises of a crowd – that moment when the music hits. It was a fun album."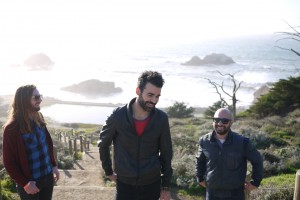 The highly stylized production accompanying Denni's deep vocals offer crowd rousing tracks, and display a refined sound. The band carried this metamorphosis over to Myth, allowing Geographer to explore the darker thematic elements it offers on the most recent record.
In the meantime, the band is continuing its heavy tour schedule and are working on its 2014 album, of which a release date has not been determined.
"People have stopped writing song songs. Indie music is a lot about sounds and vibes, and that's cool, but that's not the music I want to listen to," Denni says.
"The song used to be this concrete thing that was bigger than an artist. I'm trying to recreate that."
And so far, the promising band is accomplishing that. With intimate relationships developed with fans over magnetic live performances, it's obvious Geographer is breaking unprecedented ground with a unique style.
"When I don't understand the world around me or how people relate, I go over to the piano," Denni says. "There is some truth out there. Performing is the most exciting element, because when I see our performances going well it's like we found that truth.