The Anatomy of Frank is determined to make history by recording an album on and about every continent, beginning with North America.
The alternative rock band, featuring members singer and guitarist Kyle Woolard, guitarist Erik Larsen, keyboardist Jimmy Bullis, bassist Jonas Creason and drummer Max Bollinger, released a prelude album to the project known as Pangaea in 2013. The LP is an experimental combination of catchy pop and intricate instrumentation that focuses on separation and themes tied into the idea of the continents breaking apart.
Each album will be recorded in its respective continent and will focus on the feelings the band members get from that area, the stories they come across and anything that that continent makes the band think about.
"The plan is to go to these places and spend, like, three months living there and try to feel the culture and get inspiration that way," Woolard says.
The inspiration behind the Continents Project traces back to Woolard's obsession with Sri Lanka during high school. Ever since reading a memoir of a man returning to his family in Sri Lanka, called Running in the Family by Michael Ondaatje, Woolard has wanted to travel there and when he finally made plans to in 2006, he was unable to get further than India due to a breakout of violence in Sri Lanka.
For almost three decades, the island of Sri Lanka faced a civil war that killed about 100,000 people. The war was between the Sri Lankan military and an independent Sri Lankan army known as the Liberation Tigers of Tamil Eelam which fought to secede from the nation and become an independent state on the island. In 2009, the LTTE was stopped and the war was declared over. The island nation is recovering and Woolard's chances of seeing Sri Lanka are looking better now.
Woolard's next obsession was Antarctica, which led him to sneak back into his college dorm and stay there for most of winter break, during which the heat is shut off while the students are gone. While staying in his cold dorm, Woolard wrote what will be a good chunk of the Antarctica album.
"I kept the lights off so I could experience what it's like to be in a cold, dark place." Woolard says.
Although each release in the Continents Project will represent the different lands and express what they get out of the people and location, The Anatomy of Frank plans to stay true to its own style, rather than copying the musical influences surrounding it.
"We're not going to use Spanish guitars on the South American album or anything like that," Woolard says.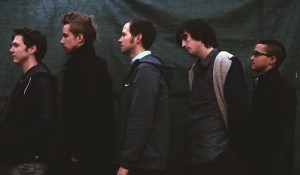 The Anatomy of Frank's style mixes creative instrumentation with catchy pop hooks that always welcome ear worms. The band also isn't afraid to write something unexpected, often including more than a few buildups and quiet moments in each song.
"We're always going to try to give people, both in our music and our physical merchandise, something that they haven't seen or heard before," Woolard says.
After the North American album is finished, the band is going to spend more time in Europe touring and promoting the music before returning to the U.S. to release it. Then, after an expected North American tour, the band will record the continent album in Europe–about 10 songs have already been written for that record.
Although the albums are not meant to imitate the music of each specific continent, they will have some differences in musical style.
"North America is turning out to be a post-rock and pop album and the Europe album is kind of that,  but it seems like it's going to be more dancey. I guess that's just the moods we get in when we think of those places," Woolard says.
After less than two weeks, the band raised over $7,000 through its Kickstarter and recently released the first demo from the upcoming album to reward its fans for their support. The eight-and-a-half minute epic, "Leavenworth, WA," is an intimate story of Woolard's interaction with a man dealing with cancer.
"I met this guy that took me around the town I was touring through; We were jumping these cliffs into a river and I noticed he had this big brown spot on his back and it turned out that it was cancer and he's waiting to die, but you would have never guessed that by the way he was acting. That really shook me up and [the] song came out of that."
"Leavenworth" may be one of the sadder songs on the album, but it has enough catchy hooks and buildups to be radio-friendly without being ordinary.
"We're trying to be sincere about this. It's not a gimmick. I think when people hear this album, they'll see that."