"Just look at yesterday, and what you were doing, and how important it was, and how nonexistent it is now! How dreamlike it is! Same thing with tomorrow. So where are we living? Tibetans have unbelievably fascinating answers to that. This is what I'm studying because my dog died."
A friend of solo artist Orenda Fink sent her that quote from musician and performance artist Laurie Anderson (who more recently lost her husband, Lou Reed) shortly after Fink's 16-year-old dog, Wilson, passed away. But rather than studying Tibetans, Fink looked inward during her period of grieving. A patient of a therapist who specializes in the analytical approach of Carl Jung, Fink revisited and interpreted her dreams to help her cope, and in the process wrote the songs that became her new album, Blue Dream.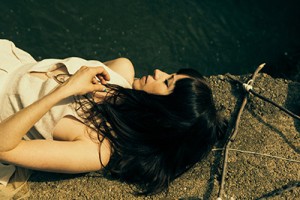 Although she may be best known as half of the duo Azure Ray (with Maria Taylor), Fink has just released her third solo album on Omaha, Neb.-based Saddle Creek Records; was a member of Athens, Ga.'s indie act Now It's Overhead; has a side project called O+S (with bassist Remy Zero and fellow Birmingham, Ala., native Cedric Lemoyne, with whom she hopes to release a new album after completing her solo tour); and leads another indie group, Art In Manila.
Reached via phone before touring to promote Blue Dream, Fink says the process of writing these 10 songs helped her work through her sadness, and while it wasn't easy, the end result helped her recover from her loss. She says with a few of the new compositions, "I was literally crying while writing them. I had not written in a long time. I didn't write the whole time I was going through everything. I think to finally feel like I had come out on the other side, to find that I was able to express it in different terms, was really cathartic for me."
The first single from the record, "Ace Of Cups" (which takes the tarot card that represents issues of love, intimacy, and compassion as its inspiration), provides some clue as to the despair Fink encountered while coping with the loss of a 16-year companion.
"Hope is a bitter hand at the bottom of the ocean and salvation is like talking to a wall," she sings at one point. Fink says of that particular line, "It's kind of like the point of despair and hopelessness. Sometimes when you don't see that silver lining…you have a lot of options to feel or not feel the way you feel any more, and yet you feel kind of 'blocked' when you try." Even so, the song ends on a more upbeat note, concluding with the lines, "If you are happy/you are loved/you can fill up my cup/I'll take it cool/I'll take it rough/You can fill up my cup."
While Fink is quick to point out that Blue Dream takes her dreams as more of "an overarching inspiration," there are a number of moments inspired by specific entries in her dream journals.
In "This Is A Part Of Something Greater," she sings, "You held your hand out and I took it/while you lick the flames of the fire." Fink says that line was inspired by a dream she had before her dog died. "In the dream, it was my dog that was dying and my childhood dog that's been long gone," playing together like healthy puppies.  "My childhood dog that had already passed led my dying dog into this room where there was this huge fire, like a huge brush fire inside the room, and they walked up to the fire and started licking the flames, as if it was the best treat." At first, Fink tried to stop them, but then "I realized that they weren't being hurt by it, they were being nurtured by it, by the flames."
When she awoke, Fink said she "felt like, symbolically, I stepped through the fire similar to them…['This Is A Part Of Something Greater' is] about death and rebirth and transformation."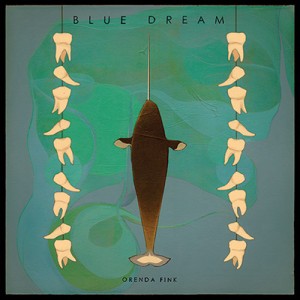 Fink says even the cover of her album was inspired by one of her dreams. "I was falling deep into the bottom of an ocean and I was about to drown, but then someone saved me, and we were pulled up by a string of teeth from the ocean. I still don't quite understand what that dream means, but it was really powerful and my Jungian analyst says floating in water is always indicating the subconscious and maybe the teeth are like some kind of lifeline to the collective unconscious or the deeper unconscious of the ancestors or something…I'm still trying to figure that one out." (The narwhal, which Fink calls "the unicorn of the sea," was a suggestion from a friend.)
Though writing Blue Dream was therapeutic for Fink, the recording process wasn't quite as relaxing. "Interestingly enough, recording it was a little bit of a different experience altogether," she says. "[I] had some time and space from writing the material to the time I recorded it, so it was a little painful to have to go back and really embody the songs, and there was a lot of pressure on myself to honor them correctly in the studio."
"It was an intense recording process. I think I was really hard on myself and hard on everybody while we were doing it."
The "everybody" she refers to was her "dream team" of engineer and multi-instrumentalist Ben Brodin (a member of Mynabirds and many other groups, and an engineer who has recorded and perfomed with First Aid Kit and Conor Oberst, among many others), drummer Bill Rieflin (Ministry, Swans, R.E.M.), and husband Todd Fink (The Faint).
The upbeat electro-pop/punk sound of The Faint (exemplified by "The Geeks Were Right") could not be more different from the slow-paced, ambient sounds of Orenda Fink's solo work, but she laughs at the notion that her husband would try to make dance remixes of her laid-back folk songs.
"Maybe in the earlier years that could have happened, which is why we didn't really collaborate that much," Fink says. "We created some very distinct boundaries professionally, but honestly I feel that just having been together for so long, like 13 years, we understand each other's styles so much that we don't have to worry about him contributing something inappropriate to what I would do…He doesn't want it to represent him; he wants it to represent the best in me that he sees, and I trust that lens."
Rieflin's contributions on drums had a much more direct effect on Blue Dream; he offered a fresh approach because, Fink says, "He didn't listen to the demos before he came, he just listened to the songs for the first time [in the studio] and had this real pop sensibility…He was playing poppy [drums] to this incredibly sad music, and I was like, 'No, I think this is too poppy, I think you're pulling it out of the zone, it needs to be sad.'" And Rieflin told her, "Orenda, it is sad. You need to counterbalance it because it's too sad."
"I think it would have been an extremely dark record if we hadn't been able to agree on that philosophy of arrangement," Fink says. So Rieflin put a poppier beat to Blue Dream, while Ben Brodin engineered the record and played most of the instruments (she credits him with providing the "swimmy, multi-layered guitars").
Brodin runs ARC Studios in Omaha, a natural fit for the Finks, who both have recorded for Saddle Creek Records in various capacities. But how did Rieflin, a drummer better known for his work with Ministry and Swans get involved with Blue Dream?
"It was such a weird, fate-like thing that we ended up working together," Fink explains.
She had toured with Now It's Overhead "many moons ago," and met  Bill Rieflin while opening for R.E.M.–in which he also played drums. "My first solo record had just come out, and I gave it to him on the tour and he kept it in his playlist this whole time."  She hadn't seen him since then, until she visited a bar in  Athens, Ga., also R.E.M.'s hometown.
"We were having a drink and catching up and he asked me what I was up to," Fink says. "I told him I was about to record a new solo record, literally three weeks from that day, and he said, 'I'm coming to play drums on it.' He was going through a weird time in his life and he said he just decided that when the universe presented him opportunities, he was going to take them no matter what. It's pretty wild, but that's what happened."
Reconnecting with Rieflin wasn't the only fate-like connection Fink made; about a year after Wilson died, she adopted another dog, Grimm.  A few months later, Fink was going through her old dream journals and realized, "I  dreamt about this new dog but I didn't know it." In Jungian parlance, she refers to this as a precognitive dream.  "It's really wild. In my dream, I was holding Wilson, but he didn't look like Wilson; he looked like a different dog. I was thinking, 'Wow, this is so weird. I know this is Wilson but it doesn't look like him,' and I described this dog in my dream. It was the exact description of my new dog, which was really weird."
Now that's she's been through the grieving process, written about her experience and her dreams, and revisited everything by recording these 10 deeply personal songs, one has to wonder if it's painful to once again discuss this chapter in her life while promoting the record.  Fink laughs and says, "Honestly, it's not.  In life generally, the more you talk something out and talk it through, the clearer your experience becomes. Now that's what's happening for me, now I can look back on it and see that experience. Now someone else can have it.  It just seems like a different me that went through all of that."