Standing a few meters in front of a light technician and a step away from a camera on a crane narrowly missing the tops of bobbing heads, one faces possible distractions when the mechanics of a standard television studio are involved in a band's live performance. A person who has never experienced this might even think it would dampen the élan vital of a band's live performance—but it doesn't, because that fan is inches away from their favorite band, most likely watching the show for free, and the frantic studio operations disappear, forgotten by the fan even though they ensure the performance will be captured forever.
This is all thanks to the man behind the camera—a compact man with a big, friendly smile and long white hair. His name is Jerry Bryant, and he's the founder of Chicago's JBTV.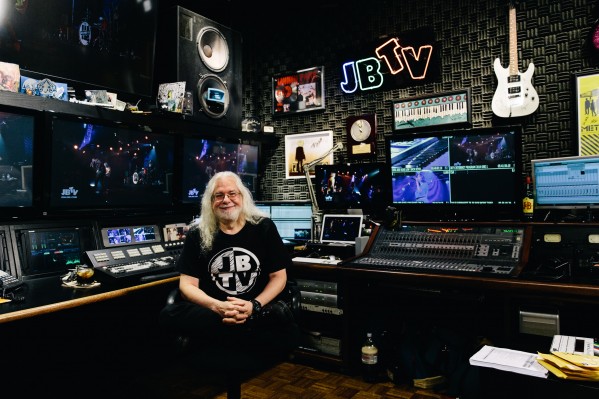 Before playing to a sold out crowd at the Empty Bottle on July 10, British four-piece Glass Animals took the JBTV stage. The band played in front of a small congregation of fans, ready to be broadcast live to the Internet and on national television, eventually to live in permanence on JBTV' site. Despite the ballet of cameras twirling around and the frenetic work of light and sound techs, being on the studio floor is an engrossingly intimate experience.
The story of Glass Animals at JBTV is just one of hundreds—a band lesser known to the American scene with a great sound playing a small show for an invisible audience of thousands. JBTV takes a good band that's not necessarily mainstream and offers it a national springboard—artists including Jeff Buckley, Green Day, No Doubt, Blink-182, 30 Seconds to Mars, Smashing Pumpkins, and Fall Out Boy were all propelled by their first appearance on JBTV. It's part of a formula that's kept the station running for 30 years without ever losing the principles it started with.
Bryant, a Chicago music institution in his own right, began JBTV determined to provide a space for overlooked artists, especially after the still very young MTV veered away from inclusion and toward turning a profit. He's produced and aired over 3,700 weekly episodes of JBTV since its inception in 1985, almost entirely at his own expense. His life's passion has earned two Billboard Music Video Awards for "Best Local/Regional Alternative Modern Rock Show" and multiple Emmy Awards for production. Not bad for someone who "was never gonna have an actual music video show."
Run by unpaid volunteers and a passion for music, JBTV serves as somewhat of a bastion of what a music networks should be, existing as an antithesis to music industry capitalism. Bryant loves an underdog; in a way, he considers JBTV an underdog in regards to corporations and major networks.
"I just think all of the networks lied to us," he says.
"The Weather Channel doesn't show weather, CNN doesn't do news, MTV doesn't play music, on and on. Where is the programming that was promised to us?" JBTV is Bryant's attempt to create the programming music fans never got from MTV, and there's no indication that it's slowing down. In fact, since the addition of another passionate music lover, the station is only picking up.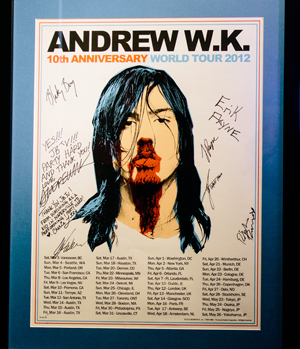 In December of 2012, Greg Corner was brought into the fold as music director. He was no stranger to JBTV, having performed on its stage as the bassist of Kill Hannah. According to Bryant, "Greg has upped the value of the company here by millions of dollars." With a keen ear in his arsenal, Corner has been booking what could be the greatest run in JBTV history.
Since Corner joined the team, he's landed more than 195 bands over the course of 18 months. With each passing show, it becomes all the more clear that he has a solid insight into little known groups that are Billboard bound, including, but not limited to, Foster the People, Bastille, Capital Cities, Kongos, Arctic Monkeys, The Orwells, and Twin Peaks. He says he looks for "cutting edge, new music," and "as long as its fresh and pushing the envelope," it's worth having on JBTV.
Corner also likes them well traveled. He likes making JBTV "a really international show," bringing on bands with huge followings in the U.K. and abroad (but not much notoriety in the States) to give them a shot at an American audience. That's not to say he shirks American bands; Corner just firmly believes in staging bands that have toured, become stronger, and honed in on their sound, bringing them the most value out of a JBTV appearance. Both Bryant and Corner say publicists love having bands on JBTV; they use the video and audio recordings for auditions for late night talk shows. "When you play JBTV, that means you're climbing the ladder," Corner hopes, and as it stands, that sentiment has been pretty spot-on.
Corner is often a bit more familiar with the acts on JBTV's stage, but he says when it comes to editing the show, Bryant has a perceptive ear. Without knowing ahead of time, "he'll know what the single is," editing hits into the final cut of a group's JBTV broadcast.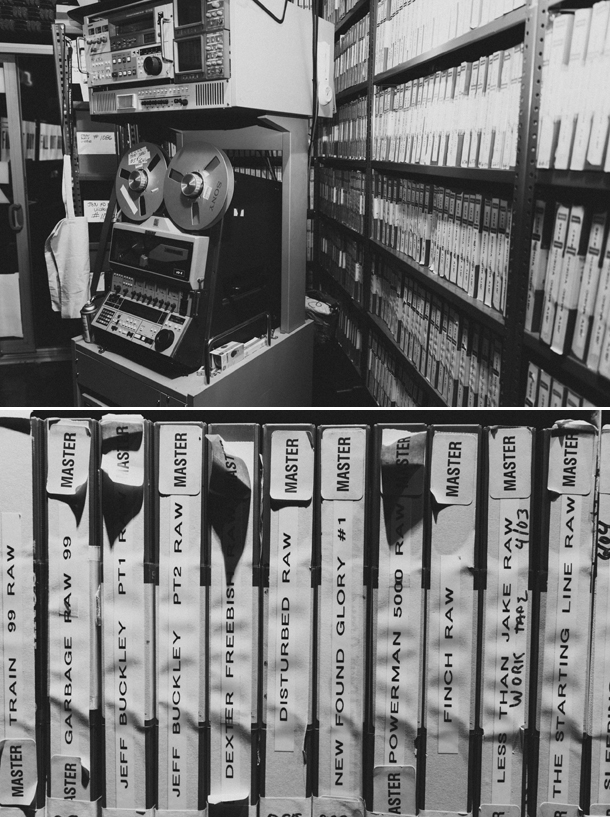 The station in general is a little befuddling. How long has it been since anything kept its soul this long? The last 30 years of JBTV have been remarkable when it comes to quality, especially the audio mixing; Bryant and audio engineer Juan Garcia-Spitz have impeccably high standards. Their seamless audio mixes have earned accusations of artists lip-syncing.
The quality is largely due to the fact that Bryant is a "technology geek," but there's also an underlying ethic when it comes to presenting bands in the best possible way. "We have stuff on interviews that never gets aired, because I want to protect their reputations," Bryant says. "We've had many opportunities over the years to exploit artists." The man has volumes of tape of bands making potentially career-ending remarks.
A prominent '90s chart-topper broke down crying onstage, and that tape "will never see the light of day."
While Bryant's hidden arsenal of embarrassing moments, and his refusal to show them, may go unnoticed, his generosity in another arena has garnered plenty of attention: fans line up outside the door to witness the taping of JBTV performances, often for free. It's only happenstance that audiences are on the studio floor. Bryant admits, "I wasn't planning on an audience. That sort of came organically, later."
But with 30 years of solid programming under its belt, it's no surprise the station has earned a following. The technology has changed and the facility is a bit more tricked-out, but JBTV hasn't lost its principles or its homey feeling. When musing on the next 30 years of JBTV, Bryant jokes, "Well, when I'm 110…" (in fact, he'd be 93), but Corner interrupts, "He'll still be editing, that's for sure."
Bryant dreams of a 24-hour network about all things music: "It'd be music and technology, music and food, music and this, music and that," like what MTV could have been. And a 15,00-seat entertainment venue (complete with bar) wouldn't hurt either. "That's one of my ultimate dreams," he says. "It's been my dream for years to do something like that."
With its recent track record, it's obvious JBTV is deserving of a larger national stage. JBTV is what all music television should be, and whether it expands or simply keeps on keepin' on, fans should look forward to the next 30 years of JBTV.
[Editor's note: Pop 'stache is partnering with JBTV to bring you videos of live performances, original interviews, and free tickets to JBTV tapings. Stay tuned!]