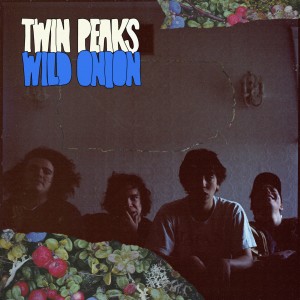 Release Date: August 5, 2014





It should be noted, and usually is, that the Chicagoland foursome Twin Peaks' sound has nothing to do with David Lynch's eerie '90s cult-classic. What's more telling is the band chose the name because it "sounded cool." Singer and guitarist Cadien Lake James, drummer Connor Brodner, guitarist Clay Frankel, and bassist Jack Dolan are childhood friends and have been on the rise since the debut of Sunken in '13, playing South by Southwest and Pitchfork, and dropping out of college. Twin Peaks is all grown up with its latest release, Wild Onion; the messy, guitar-driven pop has the nostalgia and impact of a band that's been writing timeless love songs and doing coke off breasts before the band members were even born. The Twin Peaks dudes' casual goofball demeanor may seem like a mismatch with their impeccable songwriting, but it's exactly that youthful essence that has them catching lightning in a bottle with this near-perfect record.
Wild Onion covers everything—sex, good times, bummers, growing up—which it has plenty of room to do in its whopping 16 tracks.
"I Found a Way" is Twin Peaks' way of telling everyone it's going to be all right. Frankel bellows from his lower register, "I found a new way/To open up my mind/I'd love to tell you 'bout it honey/If you could find the time." His voice ranges from that low pitch to a more ear-friendly version of crack rock vocals. "I can see from here to New York City/and I know that every place is the same/I found a way/I can see the dark sky coming/I know it's on its way." The backdrop is a simple, repetitive guitar riff and fast, subtle drumming.
The record offers a little bit of everything in the soft-punk, old school pop playbook, including change-ups in instrumentation. A flute opens "Mirror of Time," making way for a break from the record's playful diet-garage-punk-rock sound. It's a slower pop number that sounds like a Beatles-Beach Boys mash-up when they were at their sweetest. After "Mirror of Time," the hits really just keep coming. "Sloop Jay D's" opening guitar riff is a mega hook and listeners' ears are defenseless from the catchiness of this silly, expletive-laden song. "Stranger World" features a saxophone and some funky lo-fi blues, and while brief, and a little unexpected for a punk record, the track is purely instrumental and purely fantastic.
It's evidence Twin Peaks has noise in its wheelhouse other than dirty, scuzzy garage punk.
And though the band can do more, "Flavor" is exactly of the aforementioned genre, and it's so so tasty. "I searched and drifted and grieved, man/Just trying to decide who to be/Oh and I took a seat by the sea and/I laid beneath the evergreen trees/and I decided I'd just try to be me… Flavor your heart and your soul." The lyrics are a bit nonsensical, but they're paired with no-nonsense straight-forward guitar-and-drums rock 'n' roll, not unlike the Rolling Stones. The track captures moments of thoughtful introspection of a young man trying to figure out who he is and wants to be. Twin Peaks finds a way to take classic tropes and universal struggles, and make them new and simultaneously relatable. It's yet another moment where the band's youth is in its favor—it can be earnest without being derided or scrutinized.
The world hasn't hardened Cadien Lake James, Connor Brodner, Clay Frankel, and Jack Dolan just yet.
"Mind Frame" is a blissful closer to this record packed with variety. Its chugging, slow rhythm is sway-worthy as hazy vocals float atop it, also keeping time. The track features simple, melodic guitar solos and concludes with crashing drums that fade into nothing. It's a bittersweet end to a very fun record. Wild Onion captures the spirit of being young; it reflects on the sensation of being able to buy smokes and porn while apartments are unaffordable. The record is like biking down an empty city street with a best friend, probably a little drunk, feeling the wind, looking at the lights and buildings, and knowing that even though it's not perfect, life in that moment is exactly what it's meant to be.
It'd be a safe bet to say that it might be impossible for Twin Peaks to write a bad song. The band feels like a group of fresh-faced old souls one may have hung out with, and the album sounds like something familiar but never heard before. Wild Onion is ear candy that a stoned friend found under the couch and ate anyway.
Twin Peaks – Wild Onion tracklist:
"I Found a New Way"
"Strawberry Smoothie"
"Mirror of Time"
"Sloop Jay D"
"Making Breakfast"
"Strange World"
"Fade Away"
"Sweet Thing"
"Stranger World"
"Telephone"
"Flavor"
"Ordinary People"
"Good Lovin'"
"Hold On"
"No Way Out"
"Mind Frame"