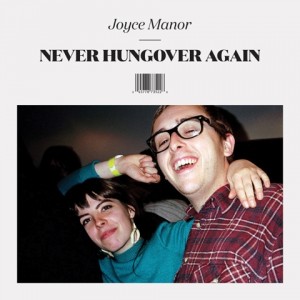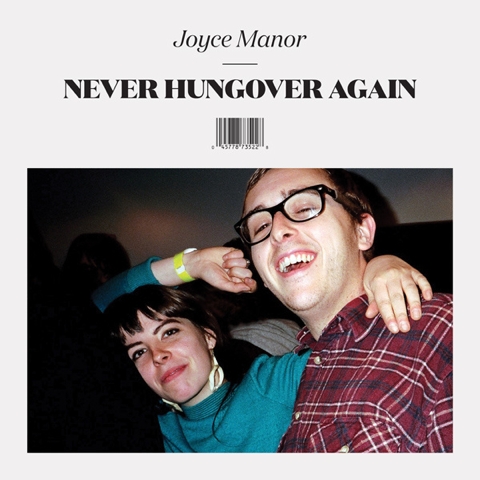 Release Date: July 22, 2014





Punk's latest cult-classic band was conceived like an illegitimate child from a one-night-stand back in '08—most likely in the backseat of a car with a cheap bottle of booze. What's more punk than that? After Andrew Jackson Jihad asked friend, now vocalist and guitarist, Barry Johnson to open his show, Johnson floundered for a name. So, he named the now outrageously popular power-violence band after an apartment complex he passed by every day: Joyce Manor.
Six years later, the punk quartet is releasing its third studio album Never Hungover Again, the band's first record with major leaguers Epitaph Records. With a solid mix of punk, punchy quick-hits, and a few heartfelt, cringe-inducing songs, Never Hungover Again is a perfectly cliché punk record to blare with friends, or for dancing and fist-pumping away at one of Joyce Manor's concerts.
"Schley," the dead-center song of the album is definitive of Joyce Manor's aesthetic, setting high standards for the recored. Johnson sings, "So watch out, you're in danger/You'd never know it but you know that it's possible," while melodic guitar plucks and symbol smacks soothe out the song, bringing the lyrics to a slowed-down, more meaningful statement. After an absolutely beautiful guitar riff, Johnson picks back up, belting out, "Like old friends who'd never ask 'How can you be happy when you wear all black?'/And they care because they wanna," quickening the pace and spiraling into the beginnings of a breakdown. "It feels weird like a really weird movie/All night in my head/All night in my head," he croons just before screaming "Schley."
Only two minutes and nine seconds of a song and a flood of teenage memories have pushed down a mental dam. Damn.
The second track "Falling in Love Again" starts slow before abruptly cutting to a jarring, throbbing melody. "Thanks for showing me around last night/I hope you don't think I don't care," Johnson begins, backed by candied power chords. "I think you're funny/I like your friends/I like the way they treat you," he continues through the chorus. Much like the instrumental storyline, the lyrics take a sharp twist in a morbidly, yet beautifully, honest direction. "I've got some money/that we could spend/I bet you'd like that," he trails. "We're falling in love again." Joyce Manor tells an almost annoyingly relatable story about relationships—a difficult feat.
With only ten songs lasting just a few seconds longer than 19 minutes, Never Hungover Again is the band's longest album yet. The best one yet, as well? Well, no. To be fair, it's near impossible to top the band's first, self-titled LP released in 2011. With a single like "Constant Headache" on the first full-length, there's a stubborn reminder that one perfect album's not enough.
A defining aspect of Joyce Manor's persona is the fact the band knows it couldn't be topped. And really, Joyce Manor didn't want to top its previous releases.
The second album, Of All Things I Will Soon Grow Tired Of, via Asian Man Records, was a clean cut away from the loud, punchy, resonating songs found on their self-titled. Rather, the sophomore album was a lo-fi, explorative, Britpop-influenced record. Never Hungover Again is the perfect combination of the first two albums.
Throughout the years, Joyce Manor has grown from playing DIY basement shows to opening for Conor Oberst's Desaparecidos, and will be touring later this year with Brand New, headlining a few shows of their own along the way. Regardless of the absolute explosion of fans that have emerged since "Constant Headache," the group has remained humble. Maybe it's because they're from California, or maybe it's because they're simply intelligent dudes. Straightforward. No time for vanity. It's the simple "Fuck it" attitude of these guys that make Joyce Manor so addictive.
Oh, one more thing: Hi, Frances.
Joyce Manor – Never Hungover Again tracklist:
"Christmas Card"
"Falling in Love Again"
"End of the Summer"
"Victoria"
"Schley"
"Heart Tattoo"
"The Jerk"
"In the Army Now"
"Catalina Fight Song"
"Heated Swimming Pool"