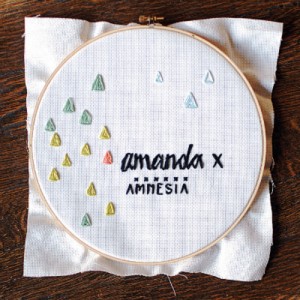 Release Date: August 5, 2014





Lyrics about romantic conflict mingle with genres everywhere from dreamy pop to post-punk to straight-forward rock in Amanda X's Amnesia. The three friends from Philadelphia—guitarist Cat Park, drummer Tiff Yoon, and bassist Kat Bean—have shared the stage with the likes of Parquet Courts, Protomartyr, Dum Dum Girls, and Scott & Charlene's Wedding. Amnesia, via Siltbreeze Records, is the band's follow-up to the 2012 premiere EP, Ruin the Moment.
The repetitive, seemingly disingenuous record is not remotely musically offensive—it's actually very easy on the ears. Unfortunately, Amanda X's latest release suffers from more nuanced problems. Amnesia has all of the trappings of a cool, breathy, thoughtful record, without any of the associated punch or genuine feelings backing it.
Park's vocals are sweet and playfully whining. In the fuzzy, beachy rock ditty "Trouble" she sings, "Oh I know baby you're trouble/But for now I want you to stay/And in time we'll get through this together/But for now we'll look the other way/But for now I want you to stay/But for now I want you to stay/But for now I want you to stay/But for now I want you to stay…" Everyone enjoys hearing the story of someone making a bad call, because they've been there before themselves. However, in the case of "Trouble," no one's buying it.  The band's rock sound and musical sensibilities suggests Amanda X is smarter than how the band is portraying itself.
The trio sounds like a cool girl band, so it'd be great if the songs passed the Bechdel test.
Amnesia is not bad in terms of a generic auditory ranking system. Its playful twists on genres, steady rhythms, and hazy sounds amount to fun ambiance, but lyrically the album can be so impertinent, unmoving, and superficial that it becomes loath-able. "Things fall apart and down I go/I'll split myself in two/So you can see inside," Park croons in the slowed down, "Things Fall Apart." This track speaks to the entire effort of the album to be an exercise in 'it's not what is said, but how it's said.' Either due to the delivery or the overwhelming sense that Amanda X is fighting the battle of who can care less, the alleged struggle in "Things Fall Apart" doesn't seem real, let alone anything akin what Chinua Achebe would write about. The album explores emotional situations without any feeling to fuel it.
The exception to this floaty black hole of emotion is the record's closing track, "Friendly Tones." Stripped down to guitar strums and picks, Park sings, "You used to make this claim that/I used to get so mad/I almost walked away/But it turned out fine/Yeah, I'll be fine." The rest of the band joins her in a round of breathy vocals, singing, "Fine."
While it's obvious that everything probably isn't "fine," "Friendly Tones" is the only song where some sort of genuine feeling surfaces.
The record spends so much time in a state of aloofness that it can be easy to forget real women and not fictional characters wrote the record. Ostensibly, that could have been the intention. With a name like Amnesia, it's possible that this compilation of tracks was intended to give the impression of fragments—both in memories and personalities.
Not liking what Amanda X and Amnesia are on paper is difficult. They seem like other great bands, but they fall short. Are they being graded on a patriarchal curve due to an engrained gender bias? Is it a matter of expecting better from an all-female band?  Is there a requirement for female musicians to give more than what would be expected from a male dream pop trio? Maybe they can just be blamed for not being what one would want them to be. In truth, there's not a good answer to any of those questions. All that's left to be said is the record is simply boring.

Amanda X – Amnesia tracklist:
"Guatemala"
"Dream House"
"Things Fall Apart"
"Tunnels"
"Nothing Wild"
"Parsnip"
"Low & Mean"
"Paranoia"
"Trouble"
"Woke Up"
"Friendly Tones"