As 18-year-old guys, inspired by the Sex Pistols and what they saw as the repressively sunny dittohead malaise of their San Diego environment, Brandon Welchez and Charles Rowell formed the political punk outfit The Plot To Blow Up The Eiffel Tower. But nowadays, Crocodiles aren't just crying crocodile tears on the band's most recent release, 2013's Crimes Of Passion, these are real tears, born of what lead singer Welchez initially understates as a "somewhat rough time."
Reached via email from the road while on tour , Welchez elaborates that he was "going through a particularly fucked up time" in his personal life, and one of his best friends had just taken his life. He doesn't elaborate, but no doubt he's referring to the February 2013 passing of Cold Cave keyboardist Justin Benoit, who he had known and worked with for over ten years, including poetry collaborations like Skinner Box and Nervous Lust. "If the album is dark it probably comes from that," he says.
But it's not like Crocodiles aimed to "make something nihilistic," as he puts it, it just turned out that way organically.
Kicking off the record with a song titled "I Like It In The Dark" might seem to be a statement of theme, but Welchez says it's actually a song about atheism. "Even though we printed the lyrics and they are fairly straightforward, a lot of people don't seem to get what we were saying in this song. It isn't supposed to be sexy or risqué," rather he puts on his Han Solo blaster belt and says the song is a response "to constantly being told to 'see the light' or to 'walk in the light' and all that hocus pocus."
Solely examining Crimes Of Passion through the lens of titular criticism, song titles including "Cockroach," Marquis de Sade," "She Splits Me Up," "Me And My Machine Gun," and of course "Gimme Some Annihilation," make it hard not to hear the travels (if not bad trips) the songwriting duo seems to have made recently. And yet, with four full-length records, this is the first release not to use a song title as the record title.
About the title, and the theme that rose to the surface, Welchez further explains that "We don't write our albums with a concept in mind. Each song is its own individual thing and we write more than we need to for a record. So when an album is done, we sit back and look at the lyrics and we say "what is this album about in general?" and try to go from there. There is almost always a theme that we've unintentionally touched on and if we can figure out what that is, the album title is usually quite easy to find from there." Even so, in this case, their friend Dino suggested the title after listening to the finished album, taking a line from the chorus of "Marquis de Sade."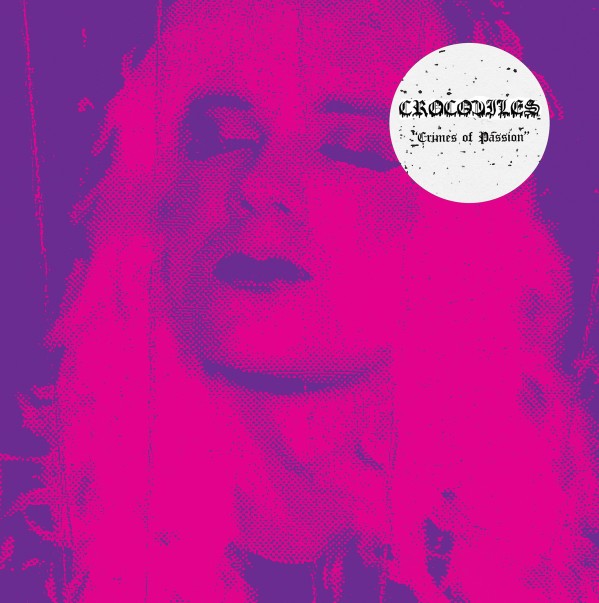 In contrast to the band's previous release, 2012's Endless Flowers (Fat Possum), its fourth outing not only seems darker, but takes a more aggressive stance. It seems less psychedelic (not to say pastoral) and more confrontational.
"Endless Flowers was recorded right as that fucked up time I was just mentioning was starting; Crimes Of Passion was written and recorded in the midst of it but with enough time in the proverbial shit to have some perspective," Welchez explains.
In another line of demarcation, the former was self-produced in Berlin whereas the latter was produced by The Raveonettes' Sune Rose Wagner in Los Angeles. Welchez, Rowell and company seem to enjoy recording each record in a different location; they've just completed the recording of the band's fifth album in Mexico City, with a new single due out this fall.
Although the group has expanded to a quintet in recent years for touring and recording purposes, Crocodiles are still at its heart the duo of Brandon Welchez and Charles Rowell. Welchez is married to Dee Dee from Dum Dum Girls (and collaborates with her in Haunted Hearts) and yet in many of their interviews together, he and Rowell joke about having a real sexual dynamic.
Some of it is probably just our sense of humor but to be fair, creating music with someone is one of the most intimate things you can do.
"Sharing creativity with someone in general is. It takes a fair amount of trust and respect, I guess somewhat like a sexual relationship. And Charlie and I are best friends and have been since we were teenagers so our relationship is about as tight as two friends can be. And people are still pretty stuffy about sex and bodies and things like that so we probably do get a bit of a kick out of playing around with that; same as we did in high school when we'd respond to being called faggots by french kissing."
Even though Crocodiles are a de facto five piece, he says that the "songwriting process hasn't actually really changed. It's always been Charlie and I writing the songs and it still is… Charlie and I typically write the basic skeletons of the songs on acoustic guitars; either separately in our respective cities, or together in person," Welchez explains. "We then get together for a month or so and flesh out the ideas and write the riffs and bass lines and all that around it. Once in a while one of us will send the other a chorus or a verse or a riff and the other person will fill in the blanks but lately we've been sending each other more complete pieces. I suppose for the past few years we've written with five musicians in mind but really we just flesh out the songs however we see fit and then figure out how to adapt it for the live setting. On Crimes we had some songs with horns, pianos, gospel vocals and things like that, and so of course we have to adapt those for our current line-up."
And when the final product plays, what does it sound like? If The Beach Boys aimed to create "teenage symphonies to God," the songs of Crocodiles are more like guitar-driven concertos aimed from and toward the dark side, the scaly armor plated underbelly of the beast within all of humanity.
That spot is ticklish in spots, but hit the wrong reflex point and Crocodiles will roll over and snap your bones apart with sharp, incisive lyrics and pummeling rhythms, like a toothpick falling into a bear trap. Although the band's moniker is inspired by Echo and The Bunnymen's debut, many critics hear a lot of The Jesus and Mary Chain in the music, a comparison they'd rather not hear again.
"I don't hear JAMC in our music. I also don't hear shoegaze, which is the other thing we get all the time. I don't really mind these comparisons, I think JAMC is a good band, I just think it's funny because it's not something that we listen to very often at all. And shoegaze we basically never listen to. Or maybe if I'm trying to go to sleep or something but it's not generally something I enjoy very much."
A comparison he's happy to embrace, and one that really hits home when you see the Crocodiles' live show, is alternative/indie rock meta-influence The Velvet Underground, responding enthusiastically to that idea that they were "one of the best bands of all time and one of our favorite bands." He calls lead singer and later solo artist Lou Reed "definitely a hero and influence on us."
Despite the acid-drenched, distorted guitar and reverb heavy approach, Crocodiles would also rather not be lumped in with the new wave of psychedelic bands like The Black Angels. "I have plenty of respect for the Black Angels and other neo-psychedelic bands," Welchez says, "but I don't think we are adherents to any one particular thing. To be honest, we'd rather not be affiliated with any scene. All those genres are ghettos that we don't want to be trapped in. We're just musicians doing whatever the fuck we want."
That differentiation is definitely underscored on Crimes Of Passion. Even if it's easy to picture dancing paisleys while listening to "She Splits Me Up," for example, it's clear that these particular paisleys have razor sharp edges that spin like the chain on a chainsaw.
Engaging in a bit of dramatic hyperbole, if Endless Flowers was the band's Revolver, is Crimes Of Passion Crocodiles' White Album? "It's probably best not to compare ourselves to the Beatles," he demurs." "But if we were to, I'd say the album we just recorded in Mexico is probably closer to being our White Album."
Expect them to abolish such hyperbole or die trying, and preview some songs from the next record, when the Crocodiles play one of its favorite venues, The Empty Bottle in Chicago on the last Tuesday in July.
"We always have a good time in Chicago, and specifically at the Bottle, because the crowd just seems looser and more into having a good time than a lot of other cities. At the end of the day this shit is just supposed to be fun and a respite from all the stress, drama and pain of life and it seems like the Chicago crowd gets that."
Crocodiles play with Milwaukee's Jaill and will feature local favorites Heavy Times opening at The Empty Bottle, 1035 N. Western, Chicago IL 60622 on Tuesday July 29th 9:00 pm, 21+
Click here for tickets and more information.