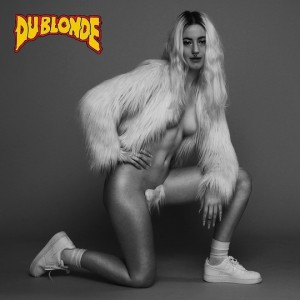 Release Date: May 19, 2015





Beth Jeans Houghton gained acclaim with her 2012 debut album, Yours Truly, Cellophane Nose. While the psych rock effort did well, Houghton didn't feel fulfilled. After a pair of life altering moments, including a psychological episode in Zurich, and the decision to break up her band and scrap a follow-up album, Houghton took a turn, and Welcome Back to Milk acted as the soundtrack.
Following the ways of Cat Stevens, Yusuf Islam, Mos Def, or Yasiin Bey, Houghton has changed her stage name to Du Blonde. Her reasoning was to gain artistic agency without ties to a distinct sound—to make music she describes as more "exhilarating."
Houghton's versatility is evident from the first track, "Black Flag," which can be described as rock with its heavy drums and guitars, and Houghton's stern vocals. The dynamic shifts with the next song, though, that can only be thought of as punk. The slight change of genres isn't a complete shift, but it does show Houghton's experimentation.
"After The Show" is drastically different from "Black Flag." It is slowed down with melodic vocals backed by a soft guitar, drums, and piano. This style evokes her earlier work, but the lyrics speak more to inner psyche issues than before.
The lyrics in many of the slower songs relate to relationship issues, whether from a current one or the post breakup state. "I remember you asking what did you expect/All I needed was a bit of your respect," she sings in "After The Show," recalling the dynamic of a previous relationship.
Other tracks touch on relationships, but don't focus on a dual nature, but rather the toll they take on a solitary person.
The Joan Baez-like track, "Four In The Morning," is very powerful with lyrics such as, "It's four in the morning/in a motel miles out of town/and time has worn you down," backed by only a piano. The song deals with her mental wellbeing, analyzing a relationship in a very solitary place—perhaps an homage to her ordeal in Zurich.
Houghton takes full advantage of the opportunity of a fresh artistic slate and used Welcome Back to Milk as a cathartic expression. The future of Du Blonde might be hazy, but the future of Beth Jeans Houghton's music could not be more radiant.
Du Blonde – Welcome Back to Milk tracklist:
"Black Flag"
"Chips To Go"
"Raw Honey"
"After The Show"
"If You're Legal"
"Hunter"
"Hard To Please"
"Young Entertainment"
"Mr. Hyde"
"Four In The Morning"
"Mind Is On My Mind ft. Samuel T Herring"
"Isn't It Wild"