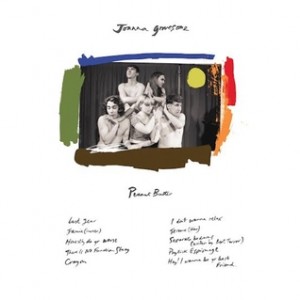 Release Date: May 19, 2015





Filled with fuzzy guitar riffs and the type of drumming that barrels through a crowd, Joanna Gruesome's sophomore album, Peanut Butter, is like a heightened continuation of the band's 2013 debut, Weird Sister. Joanna Gruesome's sound—part Riot Grrrl-era punk, part dreamy nu-gaze—is louder, grimier, and sweeter on Peanut Butter, creating an album that, in all its clamor and commotion, reflects the tough and beautiful aspects of life.
Hailing from Cardiff, Wales, Joanna Gruesome is comprised of guitarist Owen Williams, guitarist George Nicholls, bassist Max Warren, drummer Dave Sanford, and vocalist Alanna McArdle, who all allegedly met via anger management class.
Joanna Gruesome was born of a class project involving the creation of art as a way to calm the nerves.
Peanut Butter certainly isn't relaxed, though. The songs on the album fly by, literally and musically. Each track is around two minutes long, with just two songs hitting around three minutes. The album begins with a flurry of sounds with "Last Year." A guitar rushes in, accompanied by upbeat drums and McArdle's yelling voice, an effect to make her sound a bit gritty. It's the kind of music that could elicit a mosh. And suddenly, the music changes about a minute into the song. One moment, McArdle is screaming, "I will not!" and the next, her voice becomes light and sweet. The tone of the song becomes sunnier with the addition of a more melodic guitar. It's perhaps a bit bipolar, but Joanna Gruesome really captures the ups and downs of life—one moment, it's angst-filled, and then, out of nowhere, something happens to make it all right. Somehow the tone change works, possibly because the song retains its fuzzy quality the whole time.
It's as if the band cut and pasted two pieces of music together to create a mismatch made in heaven.
The band's DIY aesthetic is heard elsewhere in the album, too. "Crayon," interweaves its hard and soft sounds more seamlessly than "Last Year." "Psykick Espionage," aside from having a fun track name, succeeds at mixing grungier melodies with a lighter chorus. Glaring sound effects, such as messy guitar, distorted vocals, and feedback, are scattered throughout the songs, so even the album's indie-pop moments have some edge. "I Don't Wanna Relax" begins with harsh, effected guitar and intense, cringe-worthy feedback, which may not be pleasant to listen to, but does a good job at shocking the system. In true form to the song title, the effects create a kind of anxiety over the otherwise upbeat tune.
Joanna Gruesome's songwriting can be unclear at times—McArdle's voice tends to blend into itself word after word, and the music's varied effects muffle them even more. Some bits and pieces can be ascertained, though, such as in "Jerome (Liar)," which, by referencing clichés, seems to poke fun at an artsy archetype. "You talk about the moon, you think about stars a lot," McArdle croons. "You write about trees, impressions in sand." The subdued lyrics go along with the band's sound, but a better understanding of what Joanna Gruesome is trying to say within its music would be appreciated.
The band's lyrics do lend some mystery to the songs, though. At the end of "Psykick Espionage," McArdle repeats, "I want to avoid psykick espionage," which will make imaginations run wild with ideas as to what the band is singing about.
Lyrically understandable or not, Joanna Gruesome knows how to combine the musically abrasive and soft, screaming against life as the band strums along to it.
Joanna Gruesome – Peanut Butter tracklist:
"Last Year"
"Jamie (Luvver)"
"Honestly Do Yr Worst"
"There Is No Function Stacy"
"Crayon"
"I Don't Wanna Relax"
"Jerome (Liar)"
"Separate Bedrooms"
"Psykick Espionage"
"Hey! I Wanna Be Yr Best Friend"