The artist and label are often pitted as enemies: the artist wants to make music and the label wants to make money off of it. But Chris Stowe, singer/songwriter and manager for Pennsylvania's A-F Records (created by punk heavyweight Anti-Flag), is deeply involved in both worlds, managing A-F Records while releasing his own honest, expressive music on the label—most recently the sparse, affecting solo album Hollow.
Prior to Stowe's involvement in A-F Records and the release of Hollow this summer, he was tour managing for Anti-Flag on the band's Warped Tour run in 2012. ("I drove one of those giant band wagon things," he says, "like a semi-truck that you don't need a special license to drive, which is terrible.") While on the road, they decided to resurrect A-F Records, which had shut down after CDs lost their selling power, but this time run it with a DIY mentality.
"That's where my ethic has always been," he says.
At the time, Stowe had written much of Hollow and had already released the EP Bleed under the moniker Anniversary Club. He was also playing bass for Pittsburgh rock band White Wives (which includes some members of Anti-Flag), but took on the role of label manager regardless. A-F Records became Stowe's home and priority, and he was able to use the label's resources to release his own music, putting out Hollow on July 1, a raw, emotional album that describes a darker time in Stowe's life.
"When [people] get it, it's like, 'Oh shit, this song is about me,'" Stowe says of his deeply personal music. "Everyone else, it kind of makes them uncomfortable because it's really personal and weird. Both of which I think is really cool. I like making people uncomfortable with music."
Stowe treats his songs as an outlet to capture specific periods of his life and move on. The songs on Hollow stare the listener in the eyes and beg to be heard. The simple melodies allow Stowe's lyrics to dominate the music, putting his stories in the foreground.
"I've always used [my music]—especially the acoustic stuff—as a coping mechanism, and it's definitely helped me grow as a human and to be a normal, functional dude," Stowe says.
"All these songs are about kind of bummer stuff, and just being able to write that down and say it to other people has really been helpful."
That "bummer stuff" includes loneliness on the road, moving back to his hometown, a big breakup, and good old-fashioned depression. "Sometimes They Give Us Beer for Free" details Stowe's tour life in a series of journal entries, while "Rain" and "Blood Drinkers" painstakingly recall the happiest moments of a relationship, presenting the emptiness that's left when it ends.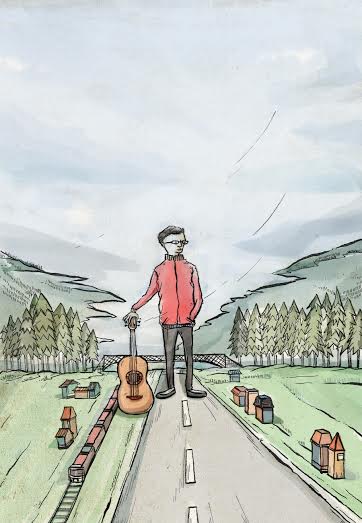 "I didn't have any perspective on anything," Stowe says, noting that Hollow took about three years to write. "I was so consumed with my own depression and negativity that I couldn't see the trees for the forest, ya know? Writing these songs and being able to (for lack of a better analogy) puke out these feelings started me down a better path."
Though Stowe has toured throughout the year to support the record, he recently decided to stop and focus on other things.
"That's the thing about this record- I'm not in this place anymore that the record talks about," Stowe says. "It's been really weird to play shows on it…Every time I play a show it feels a little weirder and a little weirder, so I decided to take a break from it."
In the meantime, Stowe will direct his attention to A-F Records and unveil a new project—the name of which he says is still a secret—with a fuller sound than his solo work, featuring some members of White Wives.
Managing a label (a full-time job) while still making time for musical projects seems like an impossible feat, but Stowe wouldn't have it any other way.
"It can definitely be overwhelming, and it took me a while to figure out that if I take on too much stuff then all of my projects start to suffer," he says. "As for quality of life, when I was a little kid slaving away at Arby's, I dreamed about being able to play music as a job. Being overwhelmed by the thing I love is way better than being overwhelmed by Beef-N-Cheddars."