Will Post stands alone in the middle of Chicago's Rax Trax Studios, taking in every detail of the room. For a few minutes, he stands silent, looking like he says something to say, then turns to the studio attendant. "You know what? I'd like these facing out," he says, pointing to a couple of stage lights. While the attendant gets right to work, he walks out of the room into Studio A, where the live producer sits making minor adjustments to an earlier sound check. Post is noticeably excited, darting from one room to the other, greeting early guests and having brief and direct conversations about the show set-up. His excitement is not unfounded; tonight, Post will officially reveal his new identity.
An hour later, people are seated only one row deep along the perimeter of the studio, which has been temporarily transformed into an unorthodox concert space. The fog machine kicks on, the overhead lights dim, the stage lights brighten. Post enters the room, sits at his piano, and starts to play.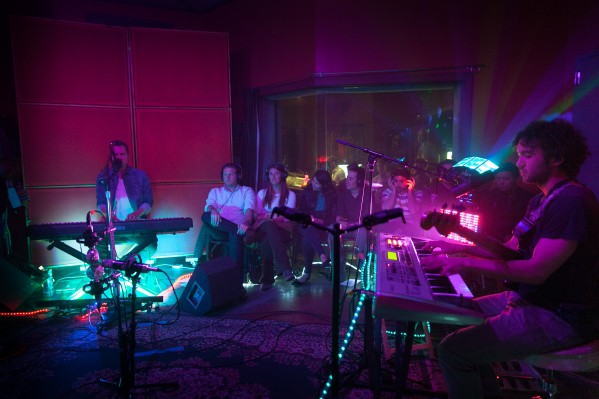 Those first few notes mark the debut of Will Post, the persona of a Chicago musician with soaring aspirations.
This show, held in May 2014, was nearly four years in the making. While he credits other bands, former bandmates, friends, and collaborators with getting him to this night, Post's journey begins and ends with him alone, daring himself to push his music further.
"I wrote my first song when I was 4, and formed my first band in third grade," Post says. But he wasn't Will Post then. Before the concert at Rax Trax, he was Bill Prokopow, a multi-instrumentalist and singer used to supporting other projects and musicians. His most well-known association to date was with the steady-rising pop-rock band I Fight Dragons, which has performed multiple years of the Vans Warped Tour and toured with larger, nationally known acts. Prokopow was playing keys and singing backup for I Fight Dragons when they opened for Cobra Starship on tour, which he says changed everything.
"I had this moment of clarity while looking at these giant, elaborate productions," Post says. "These guys began in their basement, just messing around. I am always writing, but until then, it always seemed like such a far reach to bring a song from the basement to stage on my own. But after the tour, that was my goal."
Prokopow continued playing with I Fight Dragons for another two years, a period where he paid close attention to the "industry" half of the music industry, learning what it meant to work with a label and tour. After I Fight Dragons' third national tour, he left the band to focus on writing, producing, and performing his own music. Will Post was born.
Not long after, Post acted on his first goal: to write, record, and release a song every week for six months.
The first song eventually became the lead track on his debut album, but not all of them came so easily. 22 songs later, Post felt he needed some help turning his work into an album. For this, he turned to producer James Day, whom he had met through I Fight Dragons.
"James helped me find my voice and identity," Post says. "By the time we started putting the album together, we had over 40 songs to consider. But James saw the narrative, and was pivotal in helping me shape what would eventually become Panthenon."
Panthenon is Post's debut album, released early 2014. It's an album to be experienced in its entirety and in order, bucking single-era mentality and challenging its listeners. Panthenon is centered around the concept of questioning the world you come from and know. It begs listeners to consciously leave comfort and familiarity at the door to discover truths about themselves that can't be found in complacency.
"It is a hero's journey divided into three acts," Post says of his debut. "Our hero feels lost and builds a flying machine, traveling from world to world. Only after does he have the realization that he already has what he's searching for. I'm going through a version of this all of the time, and have in many forms throughout different stages of my life—and I think many other people are as well."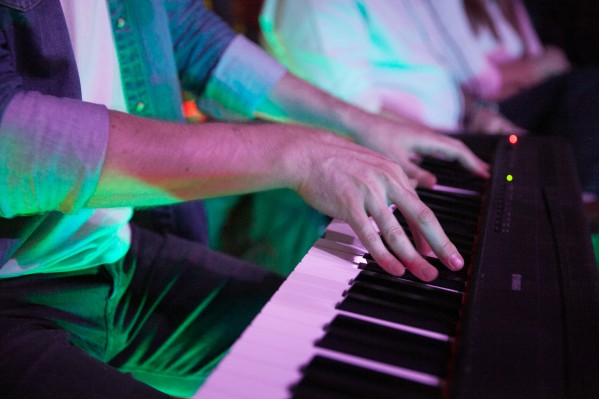 For Post, visual accompaniment plays a big part in experiencing Panthenon, drawing from the nights he watched Cobra Starship on tour in 2010. Prior to releasing Panthenon, he teased the album with clips on his Youtube channel, paired with psychedelic visuals that served to enhance the experience. "I loved movies like Fantasia and Animatrix, where music was used to enhance the visuals. I wanted to go the opposite route, having visuals bring out something extra in the songs," he says. The visuals he selects have a tall order to fill, given the epic swells and fast drops in his occasionally ambient, often powerful music.
All in attendance at Post's Rax Trax performance wear studio headphones, hearing the music mixed from the board instead of the live instruments bleeding into each other. The lights, meant for much larger stages, pierce through the synthetic fog and dance around the room as Post performs "Experiment 8," Panthenon's lead track, for the first time in front of an audience.
Post's voice starts off shaky with nerves. He has arrived at a pivotal moment, both in his life and musical endeavors. His journey alone has ended. From now on, as he takes the helm of his flying machine, Post brings all in attendance with him; and their experience with the new world of Panthenon is up to him.