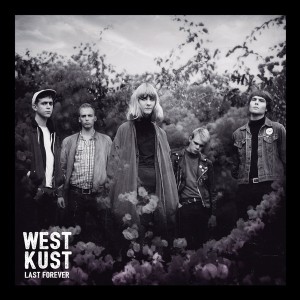 At first glance, the artwork for Westkust's debut album Last Forever makes for a pretty bland first impression; a shot of a band scowling in grayscale is hardly a groundbreaking concept. But for the Swedish quintet, it's pretty much the most revealing album art they could make, according to guitarist and co-frontman Gustav Anderson (far right). "In that [photo] in particular, it's the most obvious that the weather was really bad that day, which is pretty reflective of our general day-to-day life in Gothenburg: gray and dreary." (He briefly glances out his window to confirm that the Gothenburg skyline is still its usual shade of drab and miserable.)
But it's interesting that a band whose frontman feels most comfortable surrounded by monochromatic overcast has created one of the most unashamedly bright and upbeat indie/punk records of the year. Last Forever, Westkust's debut album released back in July, is what Anderson calls "a mix of distorted and shimmery guitars," or, upon realizing that might be the vaguest description of an indie rock band's sound ever, "a post-punk record at its core with bits of '80s New Wave, twee, and even a touch of techno mixed in."
Nearly all nine tracks revolve around wispy, urgent melodies on top of bright, buzzy distortion, in sharp contrast to both Anderson and co-lead vocalist Julia Bjernelind's dark, sometimes even ghostly vocals. The two write all their lyrics together via shared iPhone notes, with the mutual goal "to write songs that sound more like pieces of real, intimate conversations than simply two people singing together in a band."
Anderson checks his window again to make sure the clouds of Gothenburg are still intact. They are. He smiles a little.
From his perspective, the gray skies of Gothenburg hover over a dwindling indie rock scene.
"From about 1995 to 2008, there were some big cult indie bands in the area like Broder Daniel, Popsicle, and Bad Cash Quartet," he says. "They were really fun indie/poppish bands that all had a big New Wave influence. The fanbase was almost like a cult. It was this subculture called 'Panda Poppare' that was really into mixing an '80s goth and '60s mod aesthetic." (He gestures to his own bowler cut and bright red turtleneck.) "But by the late 2000s, most of those bands had broken up and the Panda Poppare crowd had moved on to electronica, like most of Europe has nowadays."
There's a somber longing in Anderson's voice as he reflects on the minimal history of Gothenburg's indie scene, but it quickly disappears when discussing the future of Westkust. "Oh, we're not sure exactly when yet, but we're definitely planning to do another European tour this fall," he says, visibly excited. "Then we really wanna come back to America as soon as we can. We really love playing there."
Surprisingly, for all his enthusiasm about the band, he has no answer for the origins of its name. "I honestly have no idea where it came from, and I don't think any of the others do either," he says. "I just know it's pronounced like the English 'West' and the Swedish 'Coast,' and that's always been good enough for me."
He signs off Skype with a quick goodbye, his cheerful waving and the dark gray clouds outside his window illustrating Westkust almost perfectly. Sure, there are hints at past sadness in both the band's lyrics and the history of its city's music scene, but none of that can stop Westkust from writing catchy, playful music. The band enjoys itself in spite of its grayscale atmosphere, and once its music hits the States, it could be hard for even the most morose indie rock fan not to jump onboard. Gothenburg may have moved on, but Westkust still has plenty of pandas to pop.