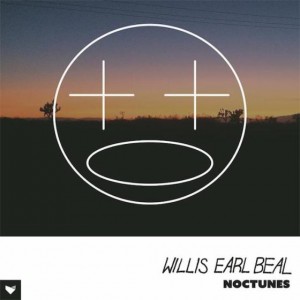 Release Date: August 28, 2015





Willis Earl Beal's self-released album Noctunes is a chill, simplified marriage between R&B, raspy blues, and indie folk. Beal achieved indie stardom a few years ago, and after some struggle with his label, he is back. The bluesy, lo-fi soul sound that Beal has is ageless and minimalistic, making Noctunes engaging yet fleeting.
Noctunes is ubiquitous folky R&B in that it pulls together sounds and themes that are familiar, but Beal composes the album with heightened intimacy. The album is melodic, sometimes reminiscent of a lullaby. These melodies all have characteristics, such as instrumentation, vocal style, and raw emotions that are relatable because of how Beal sings them, and how they remind us of other things.
It isn't sampling or mirroring another style as much as it is Beal tapping into his emotions to evoke ours.
Beal kept the compositions minimal, such as on "Lust," which is primarily composed of gentle acoustic guitar strums, humming, and whistling in the background. Beal's lone voice and lyrics provokes a lonely image. On "Start Over," simple synths add depth to the background while Beal sings, "I think I want to start over/I think I want to start over with you/I'm still holding on." The power comes from Beal's emotive voice, which is the highlight of the album.
When he dips into jazzy territory, it is slinky and meaningful. On "Say The Words," he sings with a hint of sorrow, pleading for his lover to tell him he is loved. The subtle percussion has a blues/jazz vibe that guides the track. Because they are minimal, Beal's voice is prominent on the track. Subtle drumming is paired with lo-fi electronic chords, creating an ambience around Beal's voice that takes a lounge singer-like effect. The cymbals seem strictly jazz, but are toned down by the simplified electric sounds.
While there is a lot of strength to Noctunes, it doesn't hold attention. The tracks are moving because of the simplicity and feeling, yet they also hold strong movement that keeps someone fully focused. The mono-emotional feel to Noctunes allows the music to sink into the background. While the minimalistic instrumentation is an interesting move, it isn't dynamic enough; each track hits the same feeling in the same way.
Willis Earl Beal's Noctunes uses synths and acoustic guitar to hybridize multiple genres are once. Noctunes is genre-less because of its minimalistic qualities, yet the influences are clearly developed R&B, soul, folk, and blues. Beal is not to be put in a box.
Noctunes showcases Beal's voice more than anything else. It transfixes listeners from the beginning, creating an environment that allows listeners to be mesmerized by his vocals as the somber melodies float into the background. Noctunes is ephemeral and impactful as it plays.
Willis Earl Beal – Noctunes tracklist:
"Under You"
"Flying So Low"
"Like A Box"
"Lust"
"No Solution"
"Stay"
"Say The Words"
"Love Is All Around"
"Able To Wait"
"Survive"
"Start Over"
"12 Midnight"