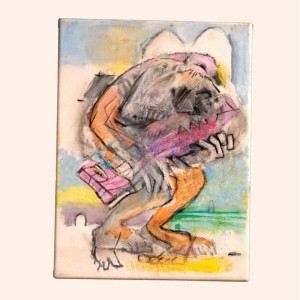 Release Date: July 17, 2015





One man's trash is another man's treasure. For his debut solo album, Jesse Hackett took that popular phrase to heart, finding inspiration in an old Yamaha PSR-110 that had been thrown away, which he used to create the album. JUNK is partially comprised of the keyboard's many (and somewhat limited) sounds, creating a disjointed journey that's sometimes weirdly fun, but can often become jumbled with its myriad electronic oddities against distorted vocals and solid, if rambling, beats.
Hackett previously released an LP under pseudonym Elmore Judd, and is part of Owiny Sigoma Band, which has released two albums and toured internationally. He also played synth on tour with the Gorillaz in 2010. JUNK seems quite a bit different from his previous endeavors—it lacks Owiny Sigoma Band's Kenyan inspiration, and it's harder hitting than Elmore Judd's 2008 album Unborn Again.
The album opens with a springy electronic noise and distorted yelling vocals in "Dump Run"—just a taste of the oddball sensibility to come.
The quick intro leads into a bouncy beat with soft singing, "We'll take our time/'Cause there's not much time." The vocals become distorted and some percussion is added, along with a warped instrument that could be the PSR-110. It's a pretty trippy start to the album, and Hackett continuously sings, "There's not much time," adding a sort of harried anxiety to the tune.
A sense of anxiety is a recurring theme throughout the album, particularly in the track "Buckle Down Bill," which features a constant electronic beat so intense that it comes across as agitated and edgy. At one point, a voice laughs in the background; at other times, a voice utters unintelligible words. There's a definite air of creepiness to it. A deep voice chants, "Buckle down Bill, he's working so hard." Near the end, a frazzled guitar comes in with no discernable melody. Although we don't know who Buckle Down Bill is, the song conjures the image of a person who is trapped in his anxieties, so restless that he can't stop.
The sense of heightened anxiety in "Buckle Down Bill" makes the song a bit difficult to listen to—it's all craziness with no joy in the listen itself—although that may be the point Hackett is trying to make with the song. He might be exploring the idea that we shouldn't be as obsessed with working as we are in America. Or, perhaps he's encapsulating the feeling of a panic attack and putting forth a song that achieves a similar effect. In that case, he makes a strong point.
Elsewhere in the album, the sound has some jazz inspiration—a major contrast to those first anxiety-ridden tunes. "Closet Jazz" has a relaxed beat and distinctly funk-toned keys. It sounds like it belongs in a lounge in the 1970s. "Monsieur" has a similarly funky, if far more upbeat, sound. The song is comprised of upbeat percussion and more spirited keys as electronic noises float in and out. Hackett hits his stride in these songs—the instrumentals come together to create a more cohesive sound and will leave listeners wanting more.
With its myriad influences and mix of anxiety-ridden and lounge-inspired tunes, JUNK comes across as the type of experimental effort wherein the artist is still searching for his true sound.
Jesse Hackett – JUNK tracklist:
"The Dump Run"
"Sacred Oblivion"
"Buckle Down Bill"
"I Don't Wanna Get Old"
"Closet Jazz"
"Lovely Lady"
"Monsieur"
"Genisis P'oribble"
"Wonder"