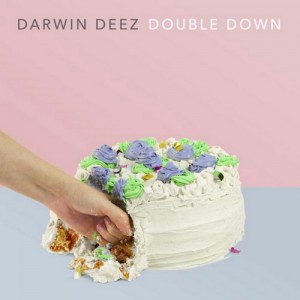 Release Date: September 18, 2015





Darwin Deez, a.k.a. Darwin Smith, seethes pop music. Ever since Deez began back in 2009, he's stuck to what he knows best: melding a killer melody and some impressive instrumentation to go along with it. Deez's new album Double Down is a lot like his other music, catchy with incredibly sweet melodies and a knack for witty lyrics. For Double Down, Smith reached to his usual influences, most notably Michael Jackson's Thriller and Outkast's Andre 3000, although Deez doesn't sound like a mere imitation. He reached his final goal with the infectious Double Down by creating irresistible pop songs that are all his own.
"Constellations" became Deez's most popular song when the band started, Double Down manages to hit that same sweet spot when it comes to chord choice and the blissful, fuzzy feeling one gets when listening to a Dawrin Deez song. "Lover" shows just how contagiousness Deez's songwriting is. As a song about a distant love interest, it's hard not to sing along even though Deez belts out the lyrics at his rawest.
Deez' aesthetic is laced with all the feelings anyone could ever have and a false sense of optimism (which may throw off listeners who aren't into unabashedly earnest and straight-forward lyrics), whereas his contemporaries may mask their true intentions with endless amounts of metaphors. Double Down blasts through with energy and songs that are mostly about all the stages of love—the good and the bad. In "Last Cigarette" Deez compares a former partner to being addicted to smoking cigarettes, singing "One last cigarette before I quit/One last look at it, because we were good at it." There are no curtains over Smith's feelings when he writes as Darwin Deez.
Luckily for Deez, he doesn't take himself too seriously. His ability to be seemingly carefree in his profession isn't exactly popular in the indie world.
Because of this, Deez is sometimes a little too sentimental with his lyrics. His cheeky and mostly too-on-the-nose lyrics are well intended, and he seems sincere, but they're overly forward and lean to a dangerously cheesy territory. For example, in "Rated R" Deez wrote about teenage love and sneaking into R-rated movies while underage. Deez sings in the chorus, "You are rated R/I'm fifteen, I'm fifteen/You are rated R/You're back for me but I'm happy." Deez attempts to recreate a sweet and slightly rebellious moment between two young people, but the lyrics come off too juvenile, wide-eyed, and bushy-tailed.
This project is Deez's outlet to let his catchiest pop songs loose without giving a shit. Double Down is yet another one of his masterful acts of just being himself. Whatever anyone says about Deez's music will merely be dust he can brush off of his shoulder.
Deez is in this music thing for good and he doesn't show signs of stopping anytime soon.
Darwin Deez – Double Down tracklist:
"Last Cigarette"
"The Mess She Made"
"Lover"
"Time Machine"
"Bag of Tricks"
"Rated R"
"Melange Mining Co."
"Kill Your Attitude"
"The Other Side"
"Right When It Rains"
"The Missing I Wanna Do"