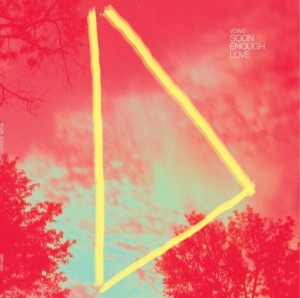 Release Date: May 29, 2015





Summer has finally come for most of the country after an arduous winter that seemed as if it would never end. If there was ever a need for an album to send us into the dream-like state that summer brings it's now, and VOWS has delivered it with Soon Enough Love.
VOWS sounds like a mix between the Flaming Lips and The Beach Boys. Its easygoing vibe is paired nicely with distortion and a psychedelic sound. Soon Enough Love is the third project from the Vermont/New Jersey band of James Hencken and Jeff Pupa. The group utilizes its full arsenal of synths, guitars, samples, and distortion effects to induce a carefree feeling. This album is best enjoyed outside or played in a car with the windows down on the way to a beach house after a tough work week.
The synthesizer, distorted guitar, and muffled vocals on songs like "Sound Island" bring about an ethereal feel and propel listeners into a floating state with its varying tempos.
Other songs, such as "Shrinking Violet," use a copious amount of distortion on the vocals and guitars, straying from an unearthly nature and showing off the band's versatility—bringing the listener back down, acting as a reality check."Come To Your Senses" is more formulaic with minimal effects, sounding more akin to a classic surf rock song with its guitar riffs,upbeat drums, and poppy vocals. Regardless of the level distortion, all the songs create a very feel-good, positive aura.
The instrumentation really carries this album while the lyrics fall by the wayside. When they are not incoherent due to distortion, they speak of vague topics. "Candy" could be construed as a love song, but the nondescript lyrics leave much of the track up to interpretation. While the instrumentation is excellent and does its best to keep up the energy, lyrics are of vital importance, and they lack in this album. James Hencken said in an interview, "We usually record in the winter. This is actually the first record we've worked on during a summer in years, and I think the result reflects that. It's a total fuzzy summer jam."
VOWS places its energy in conveying the summer feel through solely instrumentation, while the lyrics do not hold the same power. Soon Enough Love is poignant, but the band should've searched for more cohesion to create an album that doesn't need to be released in a certain time frame to be well received.
VOWS – Soon Enough Love tracklist:
"Futuis Eam"
"Day To Day"
"Candy"
"Sound Island"
"Snake"
"Shrinking Violet"
"Letters From The Sun"
"Come To Your Sense"
"Kemps Ridley"
"Nothing To Prove"