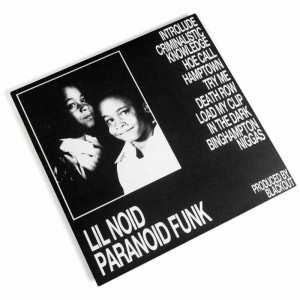 Release Date: May 26, 2015





Lil NoiD hasn't really made music in over 20 years. The Memphis native was growing in the local scene in the early '90s and was discovered by Juicy J, a member of Three Six Mafia at the time. As a result of a limited release of cassette tapes, Lil NoiD's debut, Paranoid Funk, became a rarity, until now.
More than 20 years later, Paranoid Funk is seeing a fresh circulation. While the album is not new, the bars and beats stand out in hip-hop's current landscape as frenetic, weird, and enticing, fitting somewhere between Ratking and Danny Brown in style. Back in the day, Lil NoiD's tape had an influential impact on the Memphis rap scene. Now, the style can be heard in many different contemporary rappers' tracks.
The album is dark and loaded with teen angst—Lil NoiD recorded it before he was even 20 years old. Most of the tracks are about robbing, slinging dope, or women, and aren't particularly revelatory. The bar play isn't terribly complex or intricate, but the tracks are still catchy. On "Load My Clip," he spits, "Frightful motherfucker from the Hamp I gotta take 'em out/P-I-M-P-N-O-I-D keep the nightmare punch 'em out/Time to kill another nigga, take his body to the trash/As long as y'all don't need no hand-cuffs in them body bags."
Lil NoiD's spitting style is indicative of Tennessee rap—consistently rhythmic lyrics that don't necessarily rhyme, and cadences consistent with one another regardless of beat speed.
Blackout produced the entire project with cynical beats, fitting the lyrics. Contrary to more contemporary popular hip-hop, the tracks aren't as bass-heavy. "Hamptown" stands out as one of the more evil beats; the track is primarily instrumental and sounds like the soundtrack to a dated (by current standards) haunted house or spooky video game. The beats are intentionally rough, and bump à la classic hip-hop. Some strange, older electronic accent sounds are used melodically as well. With such strange production, overdone to the point of inaudible lyrics, "Hamptown" sticks out because of the way it has aged in the hip-hop world.
Part of the appeal of Paranoid Funk is the sound quality: grainy and in some ways antiquated. The lower grade audio is now replicated synthetically, with some trendiness, making the reissue particularly hip due to this authentic quality. The album is also loaded with effects on Lil NoiD's voice, creating an illusion of multiple people rapping.
The mixtape was a cult classic within the Memphis scene. The obscurity of the album and artist is part of its present-day intrigue, but the album itself is a different kind of weird. It can flop or be trendy, and perhaps find a place among a younger generation of hip-hop heads. While it's not everyone's cup of tea, Paranoid Funk is a minute and distinct part of hip-hop history.
Lil NoiD – Paranoid Funk tracklist:
"Introlude"
"Criminalistic Knowledge"
"Hot Call"
"Hamptown"
"Try Me"
"Deathrow"
"Load My Clip"
"In The Dark"
"Binghampton Niggas"