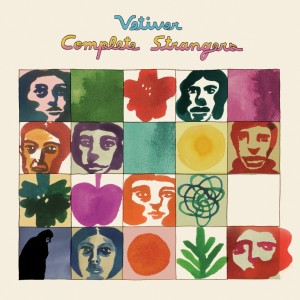 Release Date: March 24, 2015





Thom Monahan is Vetiver—an American folk band associated with Devendra Banhart and Joanna Newsom. The band's new album, Complete Strangers, is a collection of personal recordings dating back to 2003. Recorded between trips from San Francisco to L.A., the album accurately depicts the emotions felt during a pivotal point in Monahan's life. The album has an intimate, lo-fi feel; ultimately, it is characteristically bittersweet—it illustrates the changes in Monahan's character over time, much like a musical parallel to the film Boyhood.
Complete Strangers is emotional tinnitus. It serves as a musical bildungsroman, detailing emotional and physical growth through sublime and effective means, reminiscent of early Grizzly Bear. Sunny, happy sounds are always just a chord away from a darker sound. The contrast of the breadth of emotions portrayed in this work is stunning; there are bright songs like "Current Carry," and vulnerable ones like "Confiding."
However, sometimes that nostalgic contrast is clunky. There are literal transitional songs, like "Backwards Slowly," that cheapen the emotional effect. Sometimes the emotion in these songs grows repetitive and dull. This change happens halfway through the album—listeners might find themselves wishing they could hear something different.
Complete Strangers is a compilation presented as an album. It's a collection of songs recorded from as early as 2003.
Due to the differing ages of each recording, some songs sound very fundamentally different from the others.
Various musical techniques, learnt over time, are implemented on the album. Improvement is spotty yet eclectic; the album feels less polished, and it doesn't have the sentimental feel of other lo-fi recordings. Groups like Julia Brown or Smog have mastered emotive lo-fi recording, but Vetiver excels mostly in earnest lyrics and relatable stories.
The album sounds derivative of other lo-fi, moody artists of the early 2000s, but this isn't to say it isn't solid and effective—it is all of these things, but lacks the substance that makes a good album a great one. This isn't necessarily a complaint. Complete Strangers is easy listening, but at the end of the album, there is no distinction as to whether or not Monahan remains a complete stranger. One would expect a more distinctive and varied sound from his sixth studio release.
Prickly guitar and plucked bass accompany his heartfelt lyrics, emulating a lazy summer day on the West Coast. Monahan excels in flowing instrumentation, carefully crafted twangs, and twinkles that inspire emotion in the listener.
Complete Strangers is an intimate portrait of Monahan's personal growth. From San Francisco to L.A., its lo-fi folk sound remains emotionally resonant. Though the album falls short with its patchy, eclectic sound, it still is an true attempt to portray the personal growth he felt over time. If only the tracks had been organized by time or recording origin.
Vetiver – Complete Strangers tracklist:
"From Now On"
"Current Carry"
"Confiding"
"Backwards Slowly"
"Loose Ends"
"Shadows Lane"
"Time Flys"
"Edgar"
"Last Hurrah"