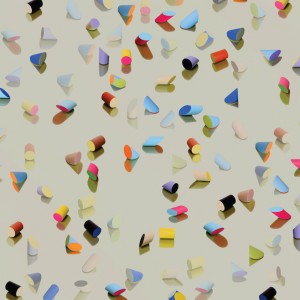 Release Date: March 31, 2015





Lower Dens wants its latest music to feel fun. Escape From Evil, the band's third studio album, tackles some deeply personal and emotional themes, but with a light, jovial tonality. The album presents listeners with elements unexplored in the band's previous albums. A stronger vocal presence, paired with direct lyrics, and noticeably more up-tempo melodies creates an album that will make listeners introspective, without overwhelming them with heavy sounds.
Forming in 2010 following vocalist Jana Hunter's decision to end her solo career, Lower Dens' first two albums solidly tracked the band's progression. Escape From Evil is a reflection of the band's growing confidence in producing music. It might sound upbeat and very '80s, but lyrically, Hunter explores an array of intensely personal problems; she deals with death, relationships, life's distractions, and overcomplicating living. It's a bit of a yin-yang album in the way it touches both light and dark, but Escape From Evil delivers both sides with a certainty that doesn't end up feeling forced or superficial.
The warmer, fun tonality of the album is new territory for Lower Dens, but drawing inspiration from music of the '80s (specifically old U2 albums, Hunter said in an interview) adds an overall mellow tone to the album.
Think "Goonies" or a John Hughes soundtrack, but with better lyrics.
Out of focus notes echo out over repetitive pinging keys, while distorted ringing sounds weave in and out. The album ticks and thumps, varying in pace, as each song's array of blurry electric keys and upbeat drumming create a cohesive listening experience.
"Your Heart Still Beating" opens with a slow, deep beat that intensifies as the song progresses with more percussion elements introduced. By the time Hunter starts singing out, a rapid thumping complete with "tsking" cymbals is layered on fuzzy, fading guitar. The whole album moves from dreamy keys playing drawn out notes with hazy, high-pitched guitars in the background to deliberate binging electric keys layered over intense screeching noises.
The influence of the '80s peaks with full force on "Electric Current," when actual thunderstorm sounds are incorporated, allowing a true blast to the past moment. At first listen, Escape From Evil sounds like easygoing music you'd expect to accompany a coming-of-age film that aired a few decades ago, but it's also an album that addresses the complexities of everyday, contemporary life.
Despite the lighthearted tone of the album, Escape From Evil touches on heavier topics lyrically, which combine with Hunter's heightened vocal presence to seduce listeners. There's a haunting quality to her raspy wailing that captivates.
"I Am the Earth," the slowest song on the album, shows off Hunter's chops and lyrical ability. As leisurely drums and guitar plucks are played, Hunter croons, "And I will still be here/Spinning long after you've gone/I am the earth/And life moves along/And eternal dusk/And endless dawn/And you always know/Which side of me you're on." The equally detached, yet emotion-filled lyrics intrigue for the entirety of "I Am the Earth."
Even on the songs with more up-tempo beats, Hunter explores heavy topics. In Lower Dens' single, "To Die In L.A.," notions of dealing with death and the difficulties of finding inner peace are explored. Hunter sings, "I/Wish I could/Count on you/To be mine/But here/I'm not crying/I'm just trying to/Be alive." The single ends with no real resolution, which is fitting considering the inspiration behind the song, Hunter just continues to repeat, "Time will turn the tide," as the track fades out.
Escape From Evil is a complex album worth celebrating; it could have easily been too forceful, trying too hard to give off an '80s vibe, sounding like a satirical Napoleon Dynamite soundtrack. The lyrics could have been ill-fitting for the quick tempo of the album. It had the potential to be a mess, except it worked. The willingness to pair light and dark is an indication of Lower Dens' potential as musicians.
Lower Dens – Escape From Evil tracklist:
"Sucker's Shangri-La"
"Ondine"
"To Die In L.A."
"Quo Vadis"
"Your Heart Still Beating"
"Electric Current"
"I Am the Earth"
"Non Grata"
"Company"
"Societe Anonyme"