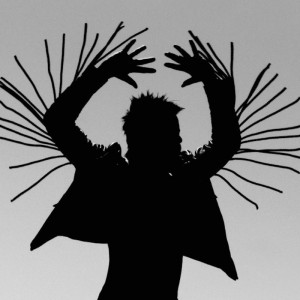 Release Date: March 17, 2015





Twin Shadow's latest album, Eclipse, sees a reinvention of George Lewis Jr.'s former '80s indie-pop glory, with the eccentric trills and scratchy tonality of his previous albums replaced with more modern, moody pop elements. Lewis, who uses Twin Shadow as his stage name and rock-star persona, has drawn inspiration from personal development of the past two years. Eclipse reflects a sophisticated Lewis, relying less on intricate guitar plucking than in the past, and more on powerful lyrics, transfixing listeners with intimate, yet relatable topics.
Fans of Twin Shadow are well acquainted with Lewis' experimentation with sound on his previous two albums, Forget and Confess. Especially in comparison to the heavy '80s vibes of Confess, Eclipse is less sporadic and blipping, with more deliberate beats. The streamlined feel of the album, which uses varying tones of bass (at times fluttering, other times trembling), might be off-putting for fans who discovered and grew to appreciate Twin Shadow's music for its indie-pop spunk. Some fans might even credit Lewis' recent record deal with Warner Bros. for the switch to synth-pop, but Lewis says the album and its more icy-pop sound were created prior to his major label deal. Regardless of what inspired the shift, Eclipse is refined, and shows promise to propel Lewis' career.
Eclipse gives off a bit of a Weeknd, "Wicked Games" vibe—throbbing bass and silky vocals included. It's a style of music that appeals to listeners, but is likely to be compared to the Canadian chart topper. In "Alone," which features an unidentified female vocalist, a low, slow pulse pumps out as Lewis' clear voice seeps in. As the beat continues, piano playing is introduced, enhancing the yearning in Lewis' vocals.
Though the sound of the album is pretty similar to the bass and synth-heavy pop music circulating today, it's Lewis' lyrics that make Eclipse surprisingly real and void of theatrics.
While some parts of the album deal with past romantic relationships, Eclipse is a more complete emotional journey. He writes from the years in which he dealt with his father's mental health, distancing himself from the "rockstar lifestyle," and rekindling his relationship with his mother.
Admitting his imperfections and past mistakes through unapologetic lyrics separates Lewis from other pop musicians. It's a personal album, riddled with memories and experiences that most people couldn't bare to verbalize to their closest confidantes, but Lewis shares them with anyone willing to listen. Despite the personal influences of Eclipse, Lewis phrases his lyrics to be somewhat ambiguous. Close friends and families would likely to be able to pin-point what inspired a specific song, but listeners are just as easily able to take any song on the album and draw parallels with their own lives.
Lewis' journey to living a more fulfilled life is reflected in "Half Life," where he sings about, well, living a bare-minimum life. Tsking drums, steady but not overwhelming, fill the track as Lewis sings, "I know I'm cold/And can't recall/It's the lie I can't control/So dark and low/I know you hate how I react." The track takes on a more upbeat tone, mixing fuzzy key strokes as Lewis' vocals become passionate during the chorus crooning, "Do you know why I stumble/Down on my knees/I've been racing through a half life/And its taken its toll on me."
Lewis might not have the most outstanding vocals and his instrumentation might not be something fresh, but his lyrics are penetrating. Channeling moments of love, finding oneself, and reconnecting with family aren't unusual avenues used for inspiration in the past. It's what Lewis does with those moments and the lyrics he creates, very nearly poetic, that separates him from other artists in the pop world. Continuing to give his lyrics their due credit and attention with future productions will only help Lewis progress further as a musician.
Twin Shadow – Eclipse tracklist:
"Flatliners"
"When the Lights Turn Out"
"To the Top"
"Alone"
"Eclipse"
"Turn Me Up"
"I'm Ready"
"Old Love/New Love"
"Half Life"
"Watch Me Go"
"Locked & Loaded"