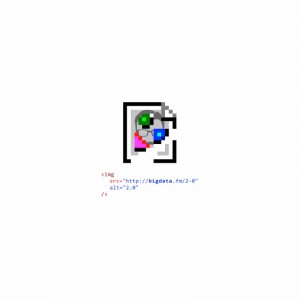 Release Date: March 23, 2015





Big Data is an electronic explosion of strange Internet references from producer Alan Wilkis and his impressive roster of featured artists. The first album is appropriately titled 1.0, and 2.0 is precisely that—an upgrade from the first edition.
All but one of the tracks on 2.0 features another artist, and these different guests drive the album in interesting directions while Wilkis maintains his own style. "Perfect Holiday" features Twin Shadow, making for an intriguing collaboration. Dragonette accompanies "Get Some Freedom," and while the track clearly holds the band's influence, the Big Data style of pop and electronica is most prominent.
"Snowed In" features Rivers Cuomo of Weezer, and is not at all recognizably Weezer-esque, but his vocals do make it a standout track. The track is loud and full electro-pop at its finest; it's loaded with epic percussion, a fun, poppy rhythm, and funky quirks that accentuate the beat. The staccato glitches in the song are combined with a Top 40 sensibility, making it ridiculously catchy. "Snowed In" captures how upbeat and peppy the album is; it's like Chromeo or deadmau5, combined with hints of Animal Collective circa Merriweather Post Pavillion.
The instrumentation on each track is extravagant and, generally, overwhelming.
At times, it works beautifully, but other times it's too wild. The songs on 2.0 are perfectly overproduced; they are over-the-top, and yet the excessiveness works well because of the craftsmanship. The album is reminiscent of the hyper-perfect production of Katy Perry or Ariana Grande. Sometimes the project feels like '80s pop ("The Business of Emotion"), or sometimes, contemporary dubstep/EDM ("The Glow").
There are a fair number of computer/Internet puns and themes throughout Big Data's discography; the album titles are just the tip of the iceberg. "Big Dater," the only track without any featured artists, has a dial-up sound included in the beat. A lot of the computer-oriented themes are cued sonically. From the get-go, listeners can easily categorize Big Data as electronic music, but a deeper listen reveals heavily-manipulated glitchy, contorted, more digitized sounds.
What is most captivating about the album are the beats and instrumentation—the lyrics are a generic, poppy afterthought. On "The Business of Emotion" the main lyrics are, "Feel good/Make you feel good/I'm looking for emotion/So I know just what to show you /I can see you/See your answers/This business of emotion/Yeah I know just what to show you, baby." These lyrics are exemplary of the simple, superficial pop lyricism throughout the album, but it also seems a conscious choice to include such basic lyrics since the album sounds so processed and intentional.
Big Data's 2.0 is  a catchy, fulfilling indie-electronica album. It's a unique project of commentary on contemporary music, making interesting developments of its own.
Big Data – 2.0 tracklist:
The Business Of Emotion (feat. White Sea)
Dangerous (feat. Joywave)
Clean (feat. Jamie Lidell)
The Glow (feat. Kimbra)
Snowed In (feat Rivers Cuomo)
Big Dater
Automatic (Jenn Wasner)
Get Some Freedom (feat. Dragonette)
Sick For Me (feat. Bear Hands)
Perfect Holiday (feat. Twin Shadow)