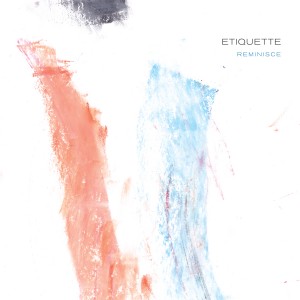 Release Date: March 24, 2015





Indie-pop duo Etiquette's debut album, Reminisce, begins with a synthesized crunch­-pop. These simple sounds set the stage for a collection of songs filled with inventive electronics, bewitching vocals, and lush composition. The album combines the talents of Graham Walsh (of Holy Fuck fame) and Julie Fader, who has sung alongside artists of the likes of Sarah Harmer and Great Lake Swimmers, as well as released a solo album.
For Etiquette's first album, Fader's dreamy vocals and emotional lyrics marry Walsh's electronic beats and driven guitar, coming together to create a captivating new album that successfully moves listeners to relive their own experiences—all the while tapping a foot to Walsh's addictive rhythms.
Reminisce begins with "Pleasantries," home of the aforementioned crunch-pop background beat. The song starts off simply, with Fader singing about a frustrating relationship, a subject that's at the core of the album. Here, Fader gives honesty to a topic felt by all. "My imagination runs wild/My imagination has grown tired of wondering/What did I do wrong this time/In your mind?" she croons as a guitar strums in, intensifying the beats. The duo knows how to build complexity to create intensity and feeling, much like fellow indie-poppers The xx or Beach House.
Though "Pleasantries" begins quietly, listeners start to better experience Fader's feelings as they are accompanied by Walsh's instrumentals.
Etiquette's music is decidedly quieter than Holy Fuck, but Walsh's rhythms keep the pace with Fader's lyrics, providing a backdrop for her singing that's intricate enough to enchant listeners without growing overwhelming. The band took care to consider where it wanted the lyrics to stand out, and where it could produce louder sonics, though continuously presenting inventive melodies.
Reminisce picks up the pace with "Twinkling Stars," which is distinctly harder-hitting compared to the rest of the album. Walsh's beats take the forefront of the song, in which Fader sings of a world that's far away, but not far enough to be completely out of reach. Meanwhile, Walsh creates a lush landscape of electronics that will get heads bobbing. Although it's a bit of a departure for the album, the duo's sound comes through, and it's a nice break from the slower songs on the album.
In "Promises," Walsh's electronics could stand on their own if Etiquette wanted them to; although, the intimate lyrics about someone who can't keep their word are too genuine to do without. But his instrumentals prove he can create a story solely with sound.
Fader's conflict in relationships, and her spare, often ambiguous lyrics, point to the uncertainty she feels.
She writes again about heartbreak in the song "Outside In," except this time, the song is enveloping in a more ambient way, focusing on Fader's hazy voice and lyrics. She addresses a "bruised feeling" that's "enveloping/outside and inside," as lackadaisical keys play in the background, accentuating her feelings toward whoever caused her state of mind. "In this relative crisis/It seems that all you could promise/Ensuring me/In certainty/Is the partial truth." With slow pacing and sparse composition, the song is sad in a near-lethargic way, which is probably the point. It's the kind of song that's perhaps best listened to during a moody night in.
Etiquette combines Fader and Walsh's unique talents in a culmination of mesmerizing vocals and an imaginative sound that will attract and excite fans old and new. Reminisce takes a look back on the past in a way that's filled with heartfelt lyrics and just enough synthesized beats to keep listeners hopeful for the future.
Etiquette – Reminisce tracklist:
"Pleasantries"
"Brown and Blue"
"Attention Seeker"
"Sleep to Wake"
"Twinkling Stars"
"Promises"
"On and On"
"Outside In"
"Island"