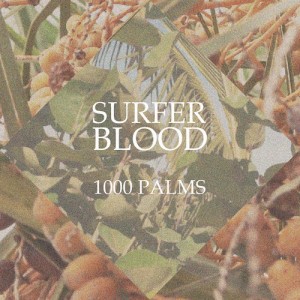 Release Date: May 12, 2015





Surfer Blood's 1000 Palms is the resulting bitterness and frustration that consumed the band after signing to Warner Bros. Records. After parting ways with the label, Surfer Blood wrote and recorded this album on its own. Home recording freed the band from major label finger pointers and directors, and freedom is a nice thing to have. Sometimes, though, a little direction is needed to push boundaries and get musicians out of their comfort zones.
Surfer Blood's music is usually driving and extremely fun, but the band seems to have taken a completely different course. What was once exciting about listening to the band, like the obvious but unique take on '60s pop music, has taken somewhat of a downturn. Surfer Blood has been known for creating fun, inoffensive, and carefree rock, no matter who the listener is. 1000 Palms is a step away from what the band is used to, branching out to explore new territory.
The opening song "Grand Inquisitor" is a strong and lively beginning to 1000 Palms. The theme of having open arms and an open mind runs through it. It's a positive note to start on, but musically, a particularly brave choice. "Grand Inquisitor" isn't exactly sing-along worthy, but that's okay. The guitars are choppy and jagged, and its rhythm section is ferocious.
Starting an album with the least relatable (at least musically) song is a bold move.
Pitts can certainly sing; his voice has an innocent and soft, but throaty quality, and can actually accentuate the softer moments in the album. Most of the time, though, Pitts' vocals are a miss completely, compared to what he's proved he can do with past albums. The melodies Pitts sings hardly strike that sweet spot in pop music that is very hard to catch, which takes the form of a song that constantly replays in someone's mind. The fog of words Pitts sings seems to settle under the good playing all the musicians display. Pitts has so much potential as a vocalist, but if the melodies aren't there, it's hard for a good voice to shine.
The album's single, "I Can't Explain," is about finding romance on New Year's Eve—what Pitts describes as an ineffable experience. A new and unfamiliar romance is intimate and personal, and though a New Year's Eve fling is, well, just a fling, it's different for everyone. Pitts should've taken the opportunity to describe what this moment felt like to him, but he fails to let listeners immerse themselves in his story.
1000 Palms' strongest song, "Saber-Tooth and Bone," is reminiscent of a song the Beach Boys might have written, but with a little more edge. The song breaks away from what's expected at the end of each verse, when the melody takes a turn and strikes a minor chord. It's the interesting changes like this that keep listeners on their toes—it's also when Surfer Blood is at its best.
Taking chances and pulling away from a familiar spot is something that's very appealing to Surfer Blood, but oftentimes, the band doesn't base its decision-making on gut instinct, and 1000 Palms is an example of that. There are very little dynamics to the songs, and when they happen, they are usually subtle, like when an instrument drops out of a song for a brief moment. 1000 Palms regularly feels like a straight line that keeps going and going until the line just simply ends without an indication of when or where it ceases.
Sure, Surfer Blood has taken a detour from what it's used to, and 1000 Palms certainly isn't its most defining work. The album is, undoubtedly, the biggest effort Surfer Blood has ever put into its music. Breaking free from a safe place seems to be worth it for Surfer Blood to gain some creative independence.
Surfer Blood – 1000 Palms tracklist:
"Grand Inquisitor"
"Island"
"I Can't Explain"
"Feast/Famine"
"Point Of No Return"
"Saber-Tooth and Bone"
"Covered Wagons"
"Dorian"
"Into Catacombs"
"Other Desert Cities"
"NW Passage"