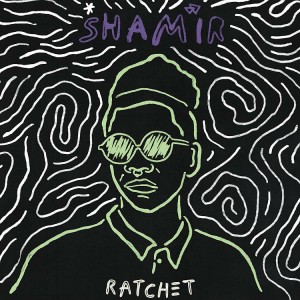 Release Date: May 19, 2015





Shamir is a lanky queer kid from north of Las Vegas with a septum piercing, dreads, disco beats, an impeccable falsetto, and an absolutely stellar debut album. His new album, Ratchet, is made up of deep house dance tracks, intimate ballads, and pop anthems that give insight into the 20-year-old's persona through his unique singing voice and wildly clever lyricism.
Three previously released tracks appear on Ratchet, "Darker," "Call It Off," and "On the Regular." While all of Ratchet is an open portrayal of Shamir's personality and style, "On the Regular" appears halfway through the album and establishes a more formal introduction. "This is me on the regular, so you know," he sings on the chorus, which is sandwiched between rapped lines over a cowbell-heavy (yes, cowbell), club-ready beat. Shamir's lyrics are witty and on-point, such as in the line, "Don't try me/I'm not a free sample," which is easily the Best Comeback 2015.
What's most striking about Shamir is his voice: high pitched with just a hint of graininess. Most likely a first listen would lead one to believe that Shamir is female. He has spoken a lot about his own gender ambiguity, in his voice and identity, expressing his embracement of complete fluidity. In a way, this makes Ratchet more vibrant, and not strictly because androgyny makes it more intellectual or enigmatic, but the quality of Shamir's voice is so distinct that it makes the album more entrancing.
With his very R&B/pop singing style, Shamir has production that is DFA-esque in style, but like Beyoncé, takes us from ballad to banger.
Sonically, Ratchet is a bouncy blast with passionate pauses. At times, it's slinky, such as on the sax-filled opener "Vegas." Other times, it's throbbing disco, such as "Call It Off." There's a hint of RuPaul-iness to "Hot Mess" because of the theme, production, and dramatic introduction. Even on slower tracks, Shamir maintains a style that keeps Ratchet cohesive.
While the bulk of the album is upbeat, Shamir takes us to a more intimate place when it turns emotional. "Demons" is a love song of sorts. Shamir begins the track with, "The honor roll is all I'd known 'til you took me over to the dark side/The thrill was good, together we stood/Like a modern-day Bonnie and Clyde." "Darker" is also one of the more impassioned tracks, crooning the track to a close with, "You can't contain the truth."
It is very exciting to see where Shamir will be in the coming years, while he hasn't fine-tuned his skills yet, there is potential to be a pop music game-changer. Currently, he is leaning into his aesthetic and personality, using his stylized persona to brand himself, and it works wonderfully. Once he has matured as an artist a bit more, he will be a more powerful force.
Shamir's personality is magnetic—not simply because of clever lyrics, but with Ratchet, one gets a sense of his entire self. The album is fun yet meaningful, and very intentional. While one can note what it sounds like at moments, Shamir isn't easy to pin down, a clear part of his personality.
Shamir – Ratchet tracklist:
"Vegas"
"Make A Scene"
"On The Regular"
"Call It Off"
"Hot Mess"
"Demon"
"In For The Kill"
"Youth"
"Darker"
"Head In The Clouds"