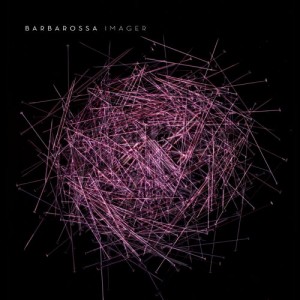 Release Date: May 12, 2015





Snare drums and bass aren't often paired with soulful lyrics and sensitive vocals, but Barbarossa's new album doesn't see why not. Imager is the second album from Barbarossa, aka James Mathé, following up his 2013 album Bloodlines. Before his full transformation into solo artist Barbarossa, Mathé was a folk musician in more background roles. He worked with the likes of Johnny Flynn and Jose Gonzalez before releasing his more electronically-infused debut album Bloodlines as Barbarossa. After toying with electronic production on tour, he has a full metamorphosis into electronic artist completed.
Imager is indeed growth from Bloodlines—the beats are more polished, yet the influence from his folkier projects is still strong. While Mathé swapped old school instruments for digital mixing programs and an iPhone app that simulates drums machines, the tracks on Imager embody a similar vibe to the work he did with Gonzalez's band Junip: airy, a tad psychedelic, and danceable.
The album's instrumentation is dynamic, but also satisfyingly simple at times. The opening/title track "Imager" has a pulsating rhythm that's catchy with a subtle funk and lyrics that echo the soulful groove. There's a fine line the album straddles between slow, ballad-like moments, and more up-tempo ones.
There's always some funk, but it's controlled, never blowing up into an all-out dance track, nor does it turn down to the point of slow and sorrowful.
"Nevada" is precisely this type of track. It engages listeners' bodies and ears with its bass drum and snare, and continues to stimulate with the tension from the slower, more impassioned vocals.Mathé sings, "Sometimes I need to talk about it/Sometimes I need to laugh a little/Sometimes I'm drowning/Sometimes I'm calling," with a light strain in his voice. These two elements seem at odds, but complement each other very well. As the track continues to develop, a bluesy keyboard steals the spotlight before listeners are reimmersed in the original rhythms.
Barbarossa is in the same lane as a Chet Faker-type, applying more expressive and emotional vocals to digital beats. One can't help but make a comparison between these two Brits. Barbarossa stands out because his vocals are often taken to a more ephemeral place, particularly when paired with the production.
His folk background is heard in the vocals. The style of the lyrics and the way in which he sings all reflect his indie folk roots. The marriage between these vocals and the electronic production makes Barbarossa a unique act. While the lyrics are not particularly revelatory —thought-provoking, but not saying anything terribly new—the style in which they are sung and their minimalism do complement the instrumentation nicely.
Imager is indeed a development for Mathé, but does seem to lack some level of depth. What's lacking is not musicianship or artistry, but perhaps Mathé hasn't quite found his niche yet. There is a lot of potential for growth, and Barbarossa can become an innovative project in due time; however, in the meantime Imager is solid, insightful, and engaging.
Barbarossa – Imager tracklist:
"Imager"
"Home"
"Solid Soul"
"Settle"
"Nevada"
"Dark Hopes"
"Silent Island"
"Muted"
"Human Feel"
"The Wall"