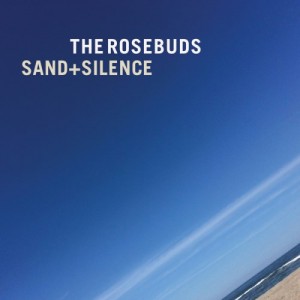 Release Date: August 5, 2014





Two divorcees, Ivan Howard and Kelly Crisp, make up indie-rock duo The Rosebuds. Surprisingly, Howard and Crisp's musical partnership has grown even stronger post-divorce and has added to both the structural and melodic success of the band's sixth upcoming album Sand + Silence.
With a helpful collaboration with Bon Iver's Justin Vernon during the creation and production process, the team has shaped the music into something almost spiritual. The shockingly organized, natural flow of the album stems from the longtime intimate partnership Howard and Crisp have cultivated throughout their musical and personal involvement. Their years of constant collaboration are showcased so each song contrasts its predecessor, which keeps the listening interesting. 

A well-balanced combination of charmingly cute and grayish melancholy, Sand + Silence leaves every track with its own distinctive attribute to set it apart from the rest.

There's a melody-centric element found on this album that is apparent after just one listen. Every song has its own particular ring that makes it feel like Howard and Crisp are dying for you to reassuringly let them know that yes, you do remember this song. The duo's indie folk-rock sound weaves together energetic sounds of graceful intensity and a natural fluidity that's found when making music with friends.

The charm on this album simulates something off an Avett Brothers or Guster album. Howard and Crisp are totally in-sync, which allures listeners to notice this duo has something other duos simply can't capture (and remember, they're divorced). A steady percussion serves as a backdrop to the bumping piano, guitar, and occasional tambourine timbres. These songs are the kinds of songs worth learning on the guitar to showcase at an open mic night. It's as if the pure melodies are mathematically calculated to hold a certain catchiness that's enough to make listeners skip backwards.
Considering Howard and Crisp's split, the romance emanating during some tracks is notably odd.
"Blue Eyes" is a blissful, lovey-dovey serenade that might be found in the happy montages of a romantic flick. Even more adorable is the subsequent track "Mine Mine," which captures the ambience of a first date through tinkling xylophone and tambourine. Both these tracks seem to hold an untamable excitement, but the progression of their individual melodies stays under control. The Rosebuds aren't experimental or wild in the music on this album, but that isn't a bad thing considering how structurally perfect the songs are—the duo takes care to keep its melodies inside the lines. 

When the sounds become less bubbly, tracks like "Esse Quam Videri" emerge in bittersweet glory. Howard's angst-ridden vocals proclaim "It's tattooed on my forearm so it's not forgotten/And I remember where I'm from or where I'm going."
The album's title track, too, keeps a dark, minor sound, and is an anthem of confused fear by the time it approaches the refrain.
The final track "Tiny Bones" is Howard and Crisp's way of leaving their own unique mark—it sounds like it's being performed in the middle of a moonlit forest. In fact, the song was actually recorded in the woods outside of Justin Vernon's April Base Studio in Eau Claire, Wisconsin. This song's relaxing campfire-like vibe seemingly has the potential to teleport listeners to the forest, and it gets even more realistic when sounds of the beginning of a rainstorm are captured at the end of the woodland song.
This isn't The Rosebuds' first time delivering an album, but Sand + Silence shows the duo's meticulous talents ironically through carefree sounds. The two put aside their differences for this sixth album, and have truly expressed their combined artistry through sweet music. They keep their incredible crafting skills humble and under the rug of their lovely, harmonious songs, but stay strongly memorable to adoring listeners.
The Rosebuds – Sand + Silence tracklist:
"In My Teeth"
"Sand + Silence"
"Give Me A Reason"
"Blue Eyes"
"Mine Mine Mine"
"Wait A Minute"
"Esse Quam Videri"
"Death Of An Old Bike"
"Looking For"
"Walking"
"Tiny Bones"