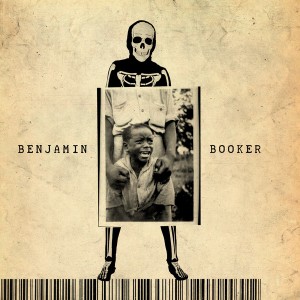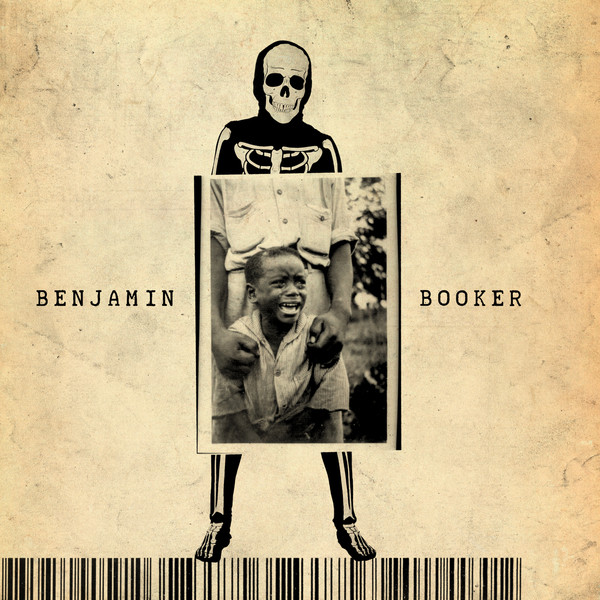 Release Date: August 19, 2014





Not unlike the skeleton featured on his album artwork, 24 year-old New Orleans blues rocker Benjamin Booker holds up a raw, unpolished depiction of himself on his self-titled debut, promising (and delivering) an honest, unapologetically coarse LP.
Booker's booked himself a full schedule this year. He's already toured with Courtney Barnett and Drive By Truckers, played Letterman before even announcing his first album, and plans to release the album the same week he begins opening for Jack White.
Haste isn't just part of Booker's business plan, it's in his very nature. Largely influenced by the '50s rock 'n' roll sound, the majority of the album is propelled by lightning-fast bend riffs and racing drums. Booker's manic ruckus rages furiously throughout the LP, most notably on the relentless "Have You Seen My Son." Toward the end of the song, Booker's sprinting rock hits top speed but stubbornly refuses to let up, resulting in a gnarly crash-and-burn. Fortunately, this wreck is the only time Booker loses control.
An attentive student, Booker's voice warbles with the defeated, impassioned cry of the '30s bluesmen who inspired the '50s rockers who inspired Booker.
Booker understands the basic 12-bar blues structure and uses it to his advantage, bridging the generation gap by placing the modern world's troubles in the music of the past. His thick, rich tones sound most like the tortured moans of his heroes on "Slow Coming," so strikingly you might think Robert Johnson had accidentally wandered into the 21st century. Lamenting a slow coming future where "the state decides true love," Booker admits, "To tell you the truth, I ain't been sleepin' too well."
His rough, scratchy voice whispers spookily on Benjamin Booker's quieter numbers and screeches menacingly on louder ones. His quivering vocals make perfect sense in his unstoppable rockers ("Violent Shiver," "Wicked Waters"), but begin to fall flat more and more frequently during the second half of the album ("Happy Homes," "Old Hearts"). Booker's rambled vocals are often difficult to distinguish, but his pained howl gets the point across.
His confident rasp is both organic and exciting, and creates a primal atmosphere on an album where anything goes.
Despite that opportunity, Booker sticks to a basic rock instrumentation. This textural traditionalism works as both a gift and a curse; it solidifies Booker's rocker credibility, but its repetitive nature prevents his emotional palette from expanding beyond blistering bursts of energy. These uncontrollable bursts don't even allow room for an acoustic guitar until the folky closer "By The Evening."
Acoustic instruments may not surface until the end, but softer moments do occur along the way. "Spoon Out My Eyeballs" begins with a light guitar strum, over which Booker whispers a melodically folky verse. Allowing the first glimpse of a human Booker, the verse once again bemoans the modern world with sighed lines like "Now when I listen to the radio/I find love songs written by 40-year olds." Unlike other Booker tunes, drums don't rush the song when they enter. Instead, the drums augment the song's melancholy second verse with a more pleasant, accessible tempo. Inevitably, the song's third verse returns Booker to his overly rushed style.
Booker structured "Spoon Out My Eyeballs" not according to its lyrics, but according to its various tempos. Instead of relying on catchy choruses or ear-worm hooks, Booker crafts tunes around rudimentary elements like tempo and dynamics. These cunning constructions prove his mania is fueled by a deep understanding of musical mechanics.
In another refreshing, unhurried moment, a pleasant, clean guitar figure drives "I Thought I Heard You Screaming," which is ironically the only Booker tune without a hasty, violent eruption. Exposing his wounded blues soul again, Booker moans, "It's a lonely walk/…/You ain't seen no love since that man walked out your door." Emotive and defeated, "I Thought I Heard You Screaming" shows Booker's skills as a singer, songwriter, and guitarist, making it the most rewarding song on the album.
A few loose bolts are apparent on Benjamin Booker's self-titled debut, but the good old fashioned rock 'n' roll record accomplishes all its goals. Presenting an undoubtedly original, unPhotoshopped picture of Booker's potent blues influence and rare songwriting talent, Benjamin Booker arrives just in time for his Jack White dates.
Benjamin Booker – Benjamin Booker tracklist:
"Violent Shiver"
"Always Waiting"
"Chippewa"
"Slow Coming"
"Wicked Waters"
"Have You Seen My Son"
"Spoon Out My Eyeballs"
"Happy Homes"
"I Thought I Heard You Screaming"
"Old Hearts"
"Kids Never Growing Older"
"By The Evening"