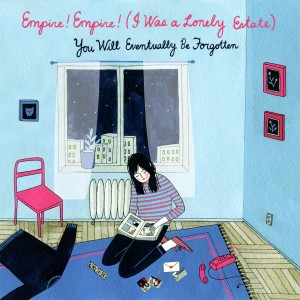 Release Date: August 19, 2014





Empire! Empire! (I Was a Lonely Estate,) the husband/wife duo's latest album You Will Eventually Be Forgotten is packed with songs standard to the emo revival genre. The unique approach taken to create You Will Eventually Be Forgotten results in a hauntingly compelling album. However, despite the album's ability to capture its audience's attention, the way the verses are broken up becomes distracting and diminishes the quality of otherwise good songs.
There are a lot of odd aspects in You Will Eventually Be Forgotten. Throughout the 11-track album, not one song contains a chorus, but is instead heavily verse based, which isn't a typical approach taken by artists and producers. It works for Empire! Empire! (I Was  a Lonely Estate,) because not only are its tracks scaled back lyrically, but musically as well. Keith Latinen is very nearly a one-man-band who sings, plays the guitar, bass, drums, and cello heard on the album, save for the occasional guitar playing his wife Cathy contributes. The focus of the album is more on vocals, Latinen heard crooning word after word, with only slight emphasis on instrumentals.
Whether intentional or due to the limited individuals contributing to the production of You Will Eventually Be Forgotten, the album contains very basic playing.
No impressive guitar riffs or thundering drums can be heard, but extra noise isn't really needed for the impact intended. The lyrics, literally, do all the talking while the music complements what's being sung. Despite each track seeming more like journal entries sung aloud, what's being said appeals to its listeners, drawing them in and creating an emotional experience.
An untraditional story of love and Latinen's wedding day, track opener "Ribbon" weaves a chilling tale that captures listeners' attention immediately when Latinen sings, "I nearly lost you/on our wedding day/It was early afternoon/and you were leaving lunch with your best friend/When your vehicle careened/into an SUV/As it turned out in front of you/Violently flinging you/into the waiting air bag." It continues with his wife walking down the aisle glowing, despite the bruising from the crash.
While a song or two are dedicated to their relationship, You Will Eventually Be Forgotten has more songs dealing with Latinen's childhood and people involved in his past.
"Foxfire," addresses atheism, blaming the bible thumpers shoving scripture down peoples' throats for the final push to the belief. Four songs later, "It's So Much Darker When A Light Goes Out," starts off reminiscing about his grandparents 50th anniversary, but ends chillingly when he sings, "Do you know how/Two trees can grow/as one/When my grandmother died/My grandfather/died too/It took/two whole years/to convince his body/to let him go."
Traditional clearly isn't Empire! Empire! (I Was a Lonely Estate)'s approach.
Each song is more of an auditory story, captivating its listeners more intensely than artists have been conditioned to in the past. However, despite the quality of the lyrics and the simplicity of the music, the way the verses are broken up distracts and draws out songs to an overdone extent.
While perhaps an aesthetic decision, Empire! Empire! (I Was a Lonely Estate) needs to recognize when a song should be broken up and when it shouldn't. Knowing that line would improve the quality of the duo's work, because the lyrics, while approached differently, possess the captivating quality needed to transfix listeners time after time.
Empire! Empire! (I Was a Lonely Estate) – You Will Eventually Be Forgotten tracklist:
"Ribbon"
"I Was Somewhere Cold, Dark … and Lonely"
"We Are People Here. We Are Not Numbers."
"A Keepsake"
"You Have to Be So Much Better than You Ever Thought"
"Stay Divided"
"Foxfire"
"Things Not Worth Fixing"
"If It's Bad News, It Can Wait"
"It's So Much Darker When a Light Goes Out than It Would Have Been If It Had Never Shone"
"The Promise That Life Can Go on No Matter How Bad Our Losses"