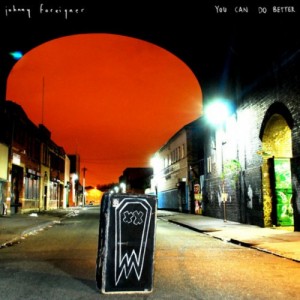 Release Date: August 19, 2014





American punk bands may have hit a dead end attempting to modernize the genre, but Birmingham, England's raging punk quartet Johnny Foreigner breaks new ground with its fourth LP, You Can Do Better.
Though the album may sound like a screaming mess at first, it harbors hidden value for those who listen a second or third time. With blaring guitars and bratty vocal tones, the album's noisy, distorted speed signals a traditionalist punk band, but Johnny Foreigner's intellectual take on punk experiments further. Dynamic songwriting, poetic lyrics, and a total refusal to comply with punk's musical standards proves that when looking for original, creative punk in the 2010's, it really doesn't get better than Johnny Foreigner.
While the role of lead vocalist splits evenly between guitarist Alexei Berrow and bassist Kelly Southern, the role of bombastic-but-talented punk outfit is played by all.
Drummer Junior Elvis Washington Laidley plays complex, syncopated rhythms throughout, separating Johnny Foreigner from the downbeat-heavy rhythms that often homogenize and limit punk music.
Laidley's explosive playing opens You Can Do Better, and the purposefully messy tone continues throughout. While many punk groups might stick to this loud-and-fast feel exclusively, Johnny Foreigner instead displays its ear for dynamic contrast with the quiet, reserved first verse of album-opener "Shipping." Two ex-lovers discuss a mutual dependance on their already-over relationship, but "Shipping" goes beyond typical, bitter breakup songs. The track broadens the horizons of punk's bitterness with poetic lyrics, such as "I will carry your baggage/A trail of lost luggage/An endless line of lives left lacking and waiting to be worthy."
In another lyrical departure, Berrow sneaks the cryptic lines of "In Capitals" into punk rock's in-your-face atmosphere. "Somebody call an ambulance," Berrow and Southern beg together, "I just murdered a party/but don't tell me that romance is dead, too." Presenting both the best and worst of Southern, "In Capitals" exposes not only her melodic, agile bass lines, but also her lack of vocal training (she often needs to slide into pitches to find their center). Southern's bass prowess makes itself apparent, and while her vocals may be pitchy, they don't disrupt You Can Do Better's regret-fueled mood.
Still, Johnny Foreigner's most potent fuel lies in its desire to distance itself from its peers. Unlike many traditional punk groups who favor strict verse-chorus structures, Johnny Foreigner explores fresher ground in "Riff Glitchard." The track opens with a beautifully picked, resonant guitar figure joined by drums that stagger at first, but quickly find their sea-legs and lead the song into a quick but smooth groove. By the time a guttural bass enters, it's clear "Riff Glitchard" defies punk's structural standards.
The 2-minute instrumental section that opens "Riff Glitchard" is one of four sections that make up Johnny Foreigner's best constructed and most dynamic number.
Leading the tune into the next section, Southern sings softly but powerfully over a light, echoey guitar strum. In the third section, the intro's instrumental returns, this time with more gusto, preparing for the chaotic coda. The song's expansive build and 5-minute length make it a standout, but its most pleasant surprise is Southern's vocal performance, which details the heartbreaking story of a pilot searching for a lover lost at sea and rings clearly in-tune throughout the track.
Once Johnny Foreigner reaches album-closer "Devastator," the band has abandoned punk completely. In a possible nod to Pink Floyd, a heart-like throbbing sound concludes  "Devastator" and connects it to "To The Deaf," a secret bonus track.
Over a deliberately fingerpicked, clean electric guitar, Berrow and Southern sing "To The Deaf" in cautious unison, like a musically competent version of the Moldy Peaches. In yet another surprise, a sudden "1-2-3" count off brings in a colorful display of happy horns, leaving listeners with one last reminder that Johnny Foreigner cannot be predicted.
Though it rumbles with the speed, distortion and instrumentation of traditional punk rock, Johnny Foreigner pushes punk's boundaries boldly. And since that boldness employs poetic lyrics and an ear for dynamics, you can't do much better than You Can Do Better.
Johnny Foreigner – You Can Do Better tracklist:
"Shipping"
"Le Sigh"
"In Capitals"
"Riff Glitchard"
"The Last Queens of Scotland"
"Stop Talking About Ghosts"
"WiFi Beach"
"To The Death"
"Le Schwing"
"Devastator/To The Deaf"