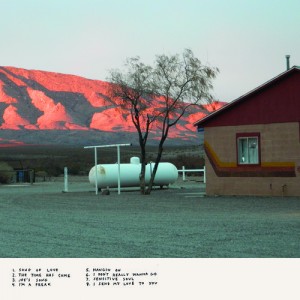 Release Date: August 26, 2014





Since her time as singer of beloved (and recently defunct) indie rock outfit Vivian Girls, and member of Woodsist jangle-pop band The Babies, Cassie Ramone has stood in the shadow of her influences. Most of the press surrounding Ramone has invoked vogue subcultures like C86, Phil Spector's "Wall of Sound," and the K Records DIY scene, even as she has pushed to sculpt her own singular sound. The Time Has Come, Ramone's first solo EP is—as yet—the most undiluted document of Ramone's songwriting talents and personality. Unfortunately, this solo designation means Ramone lacks the usual primal force of a backing band to help carry her album, but also means she's able to include head nods to past musical traditions like doo-wop vocal harmonies and the honeyed distortion of noise pop.
Signed to new home Loglady Records, Ramone takes full advantage of a smaller label and more intimate arena. The production on The Time Has Come sounds effortless to the point these songs could have been rattled off around a comforting campfire. However, this kind of sonic intimacy reveals a hollowness in Ramone's songwriting. Her songwriting strengths never really derived from the lyrics. In fact, most songs from Vivian Girls were obscured in such a thick coat of reverb that lyrics from whole songs were completely inaudible. In the case when lyrics were coherent, they were often just innovations on classic '60s pop structure.
Detached from the explicitly retro musical trappings of past projects, Ramone's songwriting feels thin, all mid-tempo noise folk songs about the yo-yo nature of her relationships and her own relentless self-loathing.
As a whole, the melodies have a lackadaisical lilt to them even as the lyrics underpinning them warn of far darker concerns.
The pastoral "Hanging On" is bathed in gleaming reverb as Ramone sings, "You keep me hanging on/What can I do/Now the love is gone." Despite its sunny exterior, she sounds utterly hopeless pleading for a flame to take her seriously again. The charging, self-destructive "I'm A Freak" similarly luxuriates in bummer vibes.  Resembling a less twee Kimya Dawson, Ramone rages, "I'm a loser/What a fucking loser/Don't invite me home for dinner/Because I'll make a scene," before climaxing with a wobbly guitar solo.
The best analog for Ramone's musical melancholia may be California surfer girl Bethany Corsentino of Best Coast, although there's much less talk about cats, and Ramone is much more active in her frustration with the romances in her life. These demons feel wholly more nuanced than mere self-pity though.
Viewed as a statement, the EP feels like a cohesive attempt to find personal peace and shutter her own self-destructive impulses.
Demonstrating the full impact of her past depression, the first line of the album is even "Every day I thank the lord that I'm not where I was before."
Though the album's melodies feel spare and stripped-down, there are still glimpses of a raucous past. "I Don't Really Wanna Go" steadily ramps up its contemplative strum until it whips up into a brief sandstorm, and the caterwauling "Joe's Song" jerks back and forth between a flowing guitar pattern and what sounds like a roving AM dial.
In the materials leading up to the release, Loglady Records compares Ramone's EP to "a contemporary take on what a modern day Karen Dalton record may sound like." It's a misleading comparison. Dalton is an outré avant-folk/country chanteuse with a warbling voice that could only be reasonably compared with Nina Simone. Ramone is a fairly typical folk singer, but she's narrative through her music, and the press around her has been shrouded in a way that resembles some long lost cult legend.
Ramone's music has the feel of a hidden treasure in plain sight.
In any other era, her music would be passed around in cloistered circles in whispered tones before her influence was dutifully exaggerated decades later. Instead, Ramone can have it both ways. She's had "mainstream indie" success with the Vivian Girls through rapturous press reception, but also built a cultural mystique that's entirely counterintuitive to her online exposure. In the past, she's proven to be an exceptional songwriter in reconfiguring the music of the past, but while The Time Has Come looks to solidify Ramone's cultish appeal, it lacks either the academic/primal rewards of Vivian Girls or the songwriting insight to make a lasting impact.
Cassie Ramone – The Time Has Come tracklist:
"Song of Love"
"The Time Has Come"
"Joe's Song"
"I'm A Freak"
"Hanging On"
"I Don't Really Wanna Go"
"Sensitive Soul"
"I Send My Love To You"