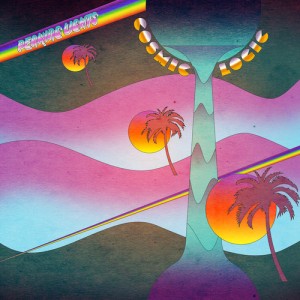 Release Date: October 6, 2014





Peaking Lights, the husband and wife duo of Aaron Coyes and Indra Dunis, has churned out a consistent flow of synthy pop sounds for three straight albums. As the Bay Area psych pop duo returns with its fourth album Cosmic Logic, the band has developed a focused precision, crafting 11 crisp, new tracks. Packed with a contrasting spectrum of sounds, the album isn't conventionally cohesive, but this works in Peaking Lights' favor; the funkadelic album is like a musical gift from the cosmos. 

Unlike the band's 2012 release Lucifer—featuring just two of eight songs under 6 minutes long—Cosmic Logic's  instrumentation is completely stripped down. This scaling back is not done in an acoustic way, but rather a minimalistic way. Coyes and Dunis first form a strong base with tinny drum lines and shimmery disco beats, and continue on with light bass atop Dunis' dreary yet melodic vocals for a strong final product.
The drums on the album offer varied sounds coming together for an exciting earful of textures and tones.
Rhythms reminiscent of electronic, house, salsa, and disco all fit into beautifully produced and executed songs on Cosmic Logic. With a large emphasis on futuristic techno, there's a lot packed into the album, but the ambitious songs flow out agreeably. "Breakdown," a single from the album, involves techy pops of clear sounds ranging from short, scratchy tickers to high-pitched Casio tones. The music become denser and even more electronica in tracks like "Dreamquest," with an entire middle section of a loud interlude of only tweaking blips and a deep drum beat. The track's simplicity makes it stand out as the least layered and beautiful section of the album.
Lyrically, Peaking Lights seems to be well aware of the tricks of formulating undeniably catchy songs. The song "New Grrrls" rings in with a joyous, Bee Gees-inspired disco beat as Dunis croons "Get up, get down/A new girl's come to town." Although Dunis' vocals aren't energetic and sound somewhat deflated, the smooth, computerized layering gives her voice the life it needs to make the already-luminous album gleam even more.
Any loose ends in the flowy, dreamy tones of Lucifer have been tightened up on Cosmic Logic; the band is pushing itself into braver, livelier territory than before.
Peaking Lights is literally exploring new ground, too, as the band recently built a Los Angeles studio where Coyes engineered and produced the new album himself, and Matt Thornley of DFA Studios (and former member of LCD Soundsystem) handled mixing the album.
The resulting record features a certain high quality yet alienated pop sound, which is, as Coyes puts it, "… based on an idea of 'Fucked Modern Pop,' but exactly what that is, we don't know … we're still trying to figure that out."
Peaking Lights – Cosmic Logic tracklist:
"Infinite Trips"
"Telephone Call"
"Hypnotic Hustle"
"Everyone and Us"
"Little Light"
"Dreamquest"
"Eyes to See"
"Bad With the Good"
"New Grrrls"
"Breakdown"
"Tell Me Your Song"