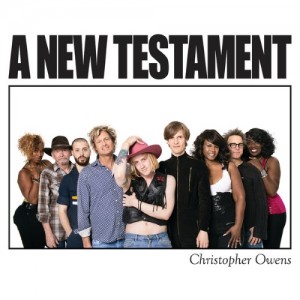 Release Date: September 30, 2014





Despite the moniker A New Testament, which hints at an embrace of faith and a heavy influence of gospel music, former Girls' ringleader Christopher Owens' second solo album is less about devotion to a higher power than absolute commitment to a new relationship. This could energize or weaken an artist depending on the songwriter, and for Owens, it's certainly the latter.
Owens' songwriting sometimes reaches the same emotional heights, or more accurately, pits of his previous songwriting, but he's fallen victim to the "Justin Timberlake Syndrome." For decades, Timberlake dashed off singles that burst with sensuality—with Timberlake slipping from sweet coos to sinister come-ons in seconds—but that seemingly all changed after the release of last year's two 20/20 Experience LP's. Those dual albums retained the previous albums' formal chops, but replaced Timberlake's trademark eroticism and edginess with a gooey sentimentality that was unbecoming and frankly, repetitive and shallow.
This same issue hurts A New Testament, an immaculately produced and written record, thanks to Owens' wittiness and knack for writing roots country, but lacks either the emotional complexity or intensity that originally heralded Owens as such an enchanting persona.
Owen's time in Girls and parts of 2012's Lysandre teased out an affinity for "Golden Age" country, but A New Testament fully embraces the bellowing twang and emphatic songwriting of artists like George Jones and Merle Haggard. "Nothing More Than Everything To Me" is a honky-tonk sock-hop, all willowing pedal steel and rockabilly swing, while "Key To My Heart" is buoyed by an aching pedal steel, a staggered delivery, and familiar, almost stock Americana imagery.
"It Comes Back To You" similarly floats an angelic pedal steel over acoustic strums, but falls flat in its repetitive bromides about karma.
While there's no doubt Owens gathered this knowledge the hard way, it doesn't enhance the message of the songwriting, and more troublingly, Owens doesn't have the pipes or vocal delivery to transcend the plainness. If anything, these songs only draw comparison to Owen's previous chronicles of drug abuse and miserabilism.
As often as the metaphors and imagery feel forced, they also double as a method of lyrical subversion. Haggard has written songs like "Keys To My Heart," but Owens has a surreal self-destructive streak, which lead to lines like "So much love/I might overflow," even while working within the framework of country. These knowing winks come in spurts though, overshadowed by antiquated country/gospel sentiments.
The arrangements similarly undermine these tropes, striking a middle ground between Paul Simon and traditional gospel and country.
"My Troubled Heart" nods to George Michaels "Faith" with its opening frantic strums, before it's reined in by a traditional organ, choir, and brittle guitar harmony. "Overcoming Me" is even better, an undulating ballad lulled along by a xylophone, guitar, and organ that give the impression of literally tugging Owens out of his depression. These moments are musical oases in a record content with just going in one ear and out the other. It's always pleasant, but rarely fully engaging.
There are still glimpses of the slyly observational songwriting which first made Owens such a revelation when he first emerged with the nakedly vulnerable "Lust For Life" and "Hellhole Ratrace," but they're largely buried in both songwriting and arrangements conflicted between direct storytelling and genre trappings.
The album as a whole is admirably restrained, but just as accusations of slightness were leveled at Lysandre, A New Testament feels distressingly restrictive in its scope even as it ventures into uncharted melodic territory. Owens, like the aforementioned Timberlake, shouldn't have to sacrifice his happiness for his art, but without the fire and verve that characterized his earlier output, Owens is just another songwriter battling a mid-life crisis with a musical detour.
Christopher Owens – A New Testament tracklist:
"My Troubled Heart"
"Nothing More Than Everything To You"
"It Comes Back To You"
"Stephen"
"Oh My Love"
"Nobody's Business"
"A Heart Akin the Wind"
"Key To My Heart"
"Over and Above Myself"
"Never Wanna See That Look Again"
"Overcoming Me"
"I Just Can't Live Without You (But I'm Still Alive)"