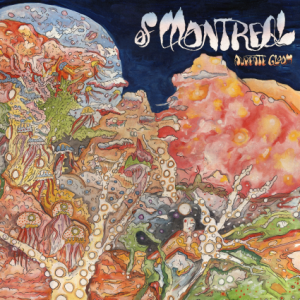 Release Date: March 3, 2015





From shaving cream suits to riding in on white horses, of Montreal is known for its goofy eccentricity. But its latest studio album, Aureate Gloom, pays a more serious homage to New York City's music history. Gathering inspiration from old NYC haunts of '70s rockers, the band reaches a vulnerability similar to musicians of that time. Raw and impassioned lyrics mix with electric-rock elements and classic instrumentation on Aureate Gloom, showing that of Montreal's power hasn't plateaued decades into its career.
Hailing from Athens, Georgia, of Montreal has served as a revolving door for musicians during it's near 20-year existence. Having started its career in the late '90s, of Montreal is identified as one of the Elephant 6 Recording Company artists that acquired a dedicated fan base and commercial success. Elephant 6, originally created by musicians inspired by music of the late '60s, acted as a starting point for of Montreal until signing its first major record deal with Kindercore Records. Following that, of Montreal's sound began to adopt the electric pop tone long-time fans have come to expect from the band. But old-school elements inspired by the likes of the Beatles are an ever-present force throughout the band's discography.
The album's particular inclusion of classic rock elements with the band's signature electric rock sound is guided by Kevin Barnes' two-week writing retreat in New York City. Used as an escape from the people he was writing about, Barnes immersed himself in the city as he believed notable '70s rock stars (Patti Smith, Tom Verlaine or James Chance to name a few) had in their heydays.
The result? A merging of ringing guitar, rapid, yet rhythmic drumming, and blipping electric keynotes peppered between more anticipated sounds. That mashup of sound is best represented in "Last Rites at the Jane Hotel," which opens with basic guitar and drums under Barnes' singing. The vocals shift to harmonious, ethereal crooning as the instrumentation muddles, enhancing the vocal break. Guitar and drums resume, slamming out aggressively as lyrics are spat out word by word. The jarring sound stalls before shifting to high-pitched ringing, like strings thrown into the mix, fading in and out of focus. "Last Rites at the Jane Hotel" shifts one last time, back to the aggressive rocking, which is taken to the song's end.
At times Aureate Gloom seems like a messy, disarrangement of sounds, layered to create a complex auditory experience. In moments when the sound is more cluttered than cohesive, Aureate Gloom is held together by Barnes' deeply emotional lyrics. The sensitivity of lyrics and Barnes' noticeable vulnerability was spurred by a difficult time in his life.
Making use of his lyrics and vocal ability, Barnes varies between spitting out anger-fueled lyrics to wailing about his more painful memories.
This combination of clenching howls and raspy murmuring can be heard on "Empyrean Abattoir." Barnes starts off muttering, "I've been trying to quell my anger/And not feel bitter about all of the darkness you gave me/But it's the hardest." As the song builds, he shifts to an accusatory tone, singing, "Whatever happened to your smile/Now no one cares who you are/…Now it's bad luck to even say your name."
Barnes' willingness to expose himself lyrically elevates Aureate Gloom from an okay 13th album with the band's assumed well-played instruments to one brimming with attention grabbing emotion—a sign that of Montreal is still impressively evolving.
of Montreal – Aureate Gloom tracklist:
"Bassem Sabry"
"Last Rites at the Jane Hotel"
"Empyrean Abattoir"
"Aluminum Crown"
"Virgilian Lots"
"Monolithic Egress"
"Apollyon of Blue Room"
"Estocadas"
"Chthonian Dirge For Uruk the Other"
"Like Ashoka's Inferno of Memory"