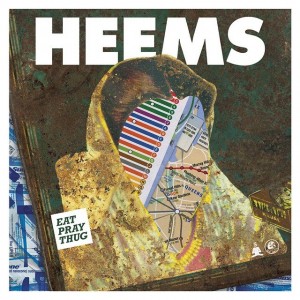 Release Date: March 10, 2015





Eat, Pray, Thug is the stellar solo project of former Das Racist member Heems. Most striking in Eat, Pray, Thug is the honesty and insight Heems expresses through witty and complex rhymes. It is also a musically on-point hip-hop record with unique and beats, thanks to producers Dev Hynes, Boody B, Harry Fraud, and Voidwell. With raps about "9/11 and Heartbreak," Heems' immersive way of addressing sensitive topics such as racism, identity, and loss develops the album as thought-provoking beyond its good technical production.
This is Heems' first album since Das Racist broke up in 2012; however, he has released two mixtapes in the interim. Since splitting off, his music has become more political and profound. It's one thing to rap lyrics with a political undertone, but it's another to detail a personal history and struggle to make a point. Eat, Pray, Thug is effective in many capacities, but most importantly, it accessibly articulates Heems' post-9/11 narrative. Props to him for opening up and expressing very real feelings in this Islamophobic day and age.
Heems is a brilliant lyricist. His barplay is as choice as ever, and some of his most clever lyrics are also the most poignant ones. These lyrics show up in the chorus or bridge, staying stuck in one's head long after the album is over. On "Flag Shopping," the chorus ends with, "They wanna Toby us like we Kunta Kinte," and the track "So NY" ends with the repeated, "I'm so New York yo, I live with my momma/Had to leave Williamsburg and all the white drama/Had to leave my home, they kept calling me Osama/Had to leave my home 'cause of drones and Obama."
While Heems sorts through racism and Islamophobia throughout the album, there are tracks in which he handles heartbreak. It is easy to focus on the more political tracks because of their natural force; however, the other topics of the album are equally strong. "Home," which features Dev Hynes (aka Blood Orange), is beautifully composed; the beat is a little awkward, but in a satisfying way. As Hynes plays sorrow-ridden guitar strings in the background, Heems gives a very intimate look into his mind and emotions post-breakup. While the beginning verses are relatively simple, they're honest and powerful—it's ballsy to be so candid about a former relationship. Still, the track is clever and a bit humorous, with lines like, "Shorty listen, quit your bitchin', be my remix to 'Ignition'."
Throughout Eat, Pray, Thug Heems perfects his style of snarky, intricate barplay. This album is indeed less humorous than his previous work, but nonetheless clever and engaging. Heems moves into different territory with "Pop Song (Games)," which is Drake-like with a Pop/R&B feel—an effective change of pace on the album.
The beats produced for Eat, Pray, Thug are very distantly related to Das Racist; what's borrowed is revamped and molded to Heems' individual style.
Each project has quirks not typical to hip-hop, yet the beats still bump as they should. Most of the time there are contrasting elements that mesh well. The track "Jawn Cage" begins with a dream-like guitar riff before switching to a synth beat and then back to guitar only to include weird glitchy sounds and the synth again.
Heems has come into his own since Das Racist's "Combination Pizza Hut and Taco Bell," so much so that perhaps it isn't really relevant to reference that track anymore. Heems has always been a good rapper, but not until his more recent work has he transcended into his own space in our hip-hop universe. He is one of a few South Asian rappers getting mainstream press. The experiences he's recounting while in the spotlight are important to hear, and he knows how to package it in a great hip-hop album.
 Heems – Eat, Pray, Thug tracklist:
Sometimes
So NY
Damn, Girl
Jawn Cage
Flag Shopping
Pop Song (Games)
Home (feat. Dev Hynes)
Hubba Hubba
AL Q8A
Suicide By Cop
Patriot Act