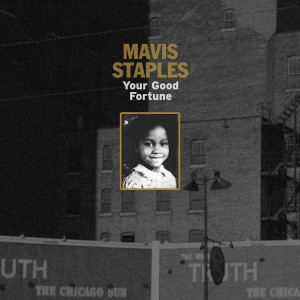 Release Date: April 21, 2015





Chicago-born legend Mavis Staples has a glittering, decades-long career under her belt, and her new EP, Your Good Fortune, proves she shouldn't stop anytime soon. The EP features two songs written by musician Son Little, and two fresh takes on classics. Son Little adds his combination soul/blues/hip-hop influence in his songwriting and instrumentals, while Staples lends her infamously passionate voice, making the music all her own. With her fresh take on R&B and emotionally-charged vocals, Staples is a rare example of a seasoned artist who is successfully creating relevant, influential music to this day.
Staples has created numerous albums, both solo and as part of The Staple Sisters, since the 1940s. She won a long overdue Grammy in 2011, and produced her last two solo albums with her friend Jeff Tweedy (of Wilco fame). Your Good Fortune mixes things up with the help of Little, but it still stays true to Staples' roots in gospel and touches on her experiences in equal rights activism.
Little has created two songs that respect his musical roots while adding new elements to the mix. Where the title track, "Your Good Fortune," is a more drawn out R&B piece with gospel-like vocals and a heavy downbeat, "Fight" picks up the pace both musically and vocally. "Talkin' about Jesus/But treating people dead wrong/Lookin' for answers/But you're singing the same song," she sings, noticeably faster than the previous song, as prominent drums continue the upbeat, though sparse, rhythm. Staples sings honestly about the landscape of today's society, in which people fight about their beliefs, yet fail to achieve real change. It harkens back to the numerous race issues that explode over social media. People talk about and comment on them, but the incidents keep happening.
Religious references throughout the album recall Staples' gospel influence, but they don't sound stale or stuffy.
Staples' version of "See That My Grace Is Kept Clean" may mention religious themes, but it features a bluesy guitar and beat that will keep heads bopping—it's a song that even unreligious people can enjoy. Originally created in 1929 by Blind Lemon Jefferson, "See That My Grave Is Kept Clean" is a classic blues song that has been sung by the likes of Bob Dylan, Lou Reed, and the Grateful Dead. It's a song that simply asks for the singer's grave to be kept clean—to keep the person's memory (and, presumably, legacy) alive. Here, Staples' iconic sound is at its best. Deep and emotionally wrought, she gives a voice to others who want to be respected during and after life.
The EP's themes of faith and equality come together in the last track, "Wish I Had Answered." The original version of the song has a breezy yet emotional tone, sounding very much like a song from the late-1960s, the era in which it was produced. In her new version, Staples adds depth and intensity to the classic. Her signature gospel undertones are present in the backup vocals and clapping beat. Her voice comes through clear and strong, as if she's calling out to her listeners to acknowledge the progress made in our society, and to remember the ones that still exist.
Mavis Staples – Your Good Fortune tracklist:
"Your Good Fortune"
"Fight"
"See That My Grave Is Kept Clean"
"Wish I Had Answered"