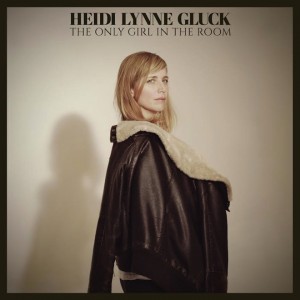 Release Date: April 28, 2015





As a collaborator with the likes of Margot & the Nuclear So and So's and Lily and Madeleine, Heidi Lynne Gluck has cemented her position as a sought-after session musician. On her debut EP, The Only Girl In The Room, Gluck's honest songwriting, set against roving acoustic melodies, proves her music can stand on its own.
Pondering home, family, and the frustrations of womanhood, Gluck offers up a set of five songs that bring new life to the traditional singer-songwriter genre with their integrity and focus in Gluck's roots—both musically and lyrically.
Gluck grew up in a small farm town in Manitoba, Canada before settling in the Midwest, and those bucolic roots are reflected in her innate style of music. Her instrumentals are on the mellow side of the spectrum, with an acoustic, folksy tone.
She has lived in rural places, and it shows undoubtedly, yet ­much of the EP centers on feelings of loneliness in environments that are supposed to be comfortable.
In "Where Will They Bury Me," Gluck paints a picture of expansive "barley covered plains," and "a cold, snowy grave." It's a hauntingly beautiful picture of Middle America that touches on the feeling of being alone in the world, even in all the comforts of home. In "Only Girl In The Room," Gluck delights in being one of the guys. At the same time, she can't help feeling alone in a crowd of friends. The tune features a jaunty piano and rollicking beats, a contrast to the lyrics that play along with Gluck's similarly conflicted feelings.
Gluck tackles objectification in "Target Practice." Acoustic guitar and piano builds as she sings about being an object in men's eyes. A steady beat comes in as Gluck sings, "I'm wearing men's clothes, trying not to look around/I guess you could say this gets me down." Her voice is clear and frank, although she's disheartened by the situation. Like Neko Case or Jenny Lewis, Gluck is speaking on a subject not usually found in country or folk music. Her clever metaphors exemplify how it feels to be in her situation: "The sniper's on the lawn/As the heat surrounds/And stalks me like a target, graveyard­-bound." Even though she says she's hiding, it's as if she feels exposed. "I'm tired of this fight/Hiding to survive," she sings, a sentiment likely felt by all.
With The Only Girl In The Room, Heidi Lynne Gluck debuts emotional lyrics with a backdrop of expressive instrumentation that will keep toes tapping as listeners remember their own, similar experiences.
Heidi Lynne Gluck – The Only Girl In The Room tracklist:
"The Only Girl In The Room"
"Target Practice"
"One Of Us Should Go"
"Orchids"
"Where Will They Bury Me"