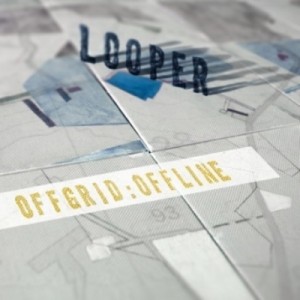 Release Date: April 14, 2015





Though Looper's Stuart David may have been a founding member of the remarkably successful Belle and Sebastian, it doesn't mean his other musical endeavors don't venture to unknown territories. Looper is the collaboration between David and his wife. Though the duo retains the best characteristics of pop music, like major chords and undeniably catchy melodies, it manages to swap out the usual jangly acoustic guitars for keyboards and samples. Offgrid:Offline is Looper's first album in nearly thirteen years; way before David even thought of writing this album, he went back to school. David studied literature and writing while his wife focused on animation. They allowed themselves to grow, artistically speaking, before delving into another project. Offgrid:Offline is the product of Looper's growth, both personally and musically.
Offgrid:Offline is filled with electronic melodies that inch their way into listeners' minds. They're sing-along worthy, and though most of these songs are laid-back, they will have even the shyest person at the party up and dancing.
Some songs are reminiscent of the work of Mark Linkous, composed of melancholy lyrics under a poppy song structure, most notably in "Oh, Skinny Legs." The song finds David in love, hoping things work out this time. Regardless of subject matter, "Oh, Skinny Legs" is infectious. The track is captivating from the second it starts to the moment it ends. It begins with an infectious riff followed by the lyrics, "Oh skinny legs, won't you hold up/My forehead tingles and my hands won't work." David is struggling with what seems to be just simply going about his day. It turns out that he's actually falling in love, which he exclaims in the song's bridge. But is he happy or upset about it?
"Farfisa Song" is upbeat and layered with lively drums and an absolutely killer farfisa riff (hence the song title), which David ends up singing along with at the end of the song. Production wise, "Farfisa Song" could have come straight off a Mark Ronson record, minus the celebrity guest appearance. The farfisa itself is something Ronson would surely use in his music. It has that '60s throwback sound that Ronson made popular with Amy Winehouse in "Valarie." The track's lyrics are bare and uncomplicated with a wordless chorus that lets the farfisa shine.
Sometimes, less is more, and David uses this concept to his advantage.
It's the tone of David's voice—soft and breathy—that gives Looper its distinct style. He almost whispers the lyrics. There's quite a contrast between his voice, the loud keyboards, and programmed drumbeats, especially in songs like "Farfisa Song." Most of the time, though, his voice blends perfectly with mellower songs, like "Waiting for Trains" and "The Lucky Bird."
Offgrid:Offline also contains some spoken word tracks, where David seems to be reading passages from a novel, perhaps work he's written, like on the album's title track, "Offgrid:Offline." David's voiceover is set above a lovely composition containing sparse piano, subtle percussion, and a yawning cello. These elements don't muddle David's prose, but make the listener lean in closer to their speakers, grasping each word.
"Images of a Shipwreck" has similar aspects, like narration and piano. The elements that make this song different are the bright acoustic guitar arrangement and a fuzzy, almost static track that sort of disappears when the guitar and piano really kick in. David's passion for music and literature (he's written three novels) stand out in these songs. Spoken word has the ability to throw off some listeners, but these are songs that shouldn't be overlooked. They're inventive and incredibly well done.
Offgrid:Offline shows brilliant musicianship, separating Looper from the norm. After David and his wife completed their educational pursuits, they decided to move out to the country, inspired by the peace and quiet, which is delicately reflected in the album and explains everything that Offgrid:Offline is.
Looper – Offgrid:Offline tracklist:
"Intro (Down The Lane)"
"What If…?"
"Waiting For Trains"
"Oh, Skinny Legs"
"Offgrid:Offline"
"Farfisa Song"
"I'm A Photograph"
"Images Of The Shipwreck"
"The Lucky Bird"
"Outro (TipToe Home)"