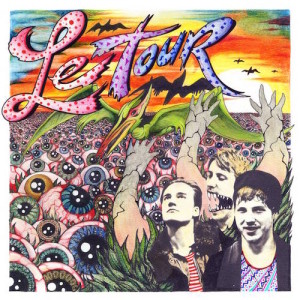 Release Date: August 10, 2015





Le Tour is a very dedicated band. While vocalist and guitarist Patrick Campbell lived in Detroit, he commuted to the band's headquarters in Chicago to record Terra Eyes during a thankless and particularly brutal winter. If the stress and exhaustion that poured into the songs on Terra Eyes isn't obvious, well, you must not be paying close enough attention. Le Tour is a punk band with psychedelic tendencies, and Terra Eyes is a perfect representation of that combination. Terra Eyes dips into two very different genres that exhibit the same hard work ethic, but it doesn't lean too heavily either side of the spectrum, which is what makes the band so original.
Le Tour often juxtaposes racing guitars and drums against chilled-out jam sessions. Le Tour knows exactly what sound they want to produce and focuses on it intently. Every song has a strong vocal melody, as if the band set this as a rule. Le Tour consistently balances lucid compositions and tight, compact choruses.
Besides writing solid, energetic garage songs, they absolutely know their shit.
They also know how to work contrast into their songs, like a sweet guitar progression plastered against Campbell's crying voice. Like in the song "Freak" where Campbell screams the chorus with his entire being. In "Athena," Campbell barks the chorus while the backup singers chant "ohhs" and "ahhs" to make the two elements contradict each other even more, but in a very good way.
Then a straight-up punk song like "Milosh" pops up on the record, sounding reminiscent of the enthusiasm of Black Flag and the drumming of Bill Stevens in the Descendents. "Working Man" is another good example of their punk roots. An erratic guitar makes its way up and down the frets as Campbell's playful vocals reach their falsetto limit. It's these moments when Le Tour doesn't take itself too seriously, but actually takes itself very seriously.
It's also worth noting Terra Eyes was recorded almost entirely live, each song with little or no overdub. That should give you a clue as to how much talent the band possesses.
Le Tour doesn't care about what's going on in music these days. The band makes the music they want, and it's quite hard to argue with that stance.
Le Tour – Terra Eyes tracklist:
"Friend"
"Working Man"
"Athena"
"Tall, Tall Mountain"
"Freak"
"Full of Surprises"
"Watching the Surface"
"Beat Up"
"Milosh"
"Who Knew?"