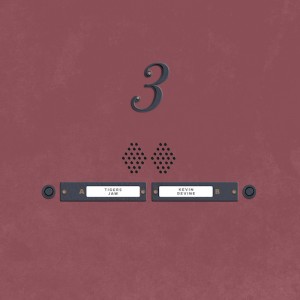 Release Date: September 11, 2015





The indie rock veteran Kevin Devine has been keeping himself busy with plenty of projects this year, including his Devinyl Splits series where he collaborates with other indie musicians for a two-song EP. In the third and most recent installment, Devinyl Splits No. 3, Devine and the band Tigers Jaw from Scranton, PA cover two very popular and beloved Cure songs. Devinyl Splits No. 3 seems to be a fun project for Devine and his friends. But if Devine had chosen a different approach to this third Devinyl Splits EP, it could have made this passionate project stand out more.
Reimagining a Cure song is a hard feat to tackle. Every Robert Smith-penned song is marked with his signature brand of despair and love-filled sentiments, and often times there's a fine line between getting a cover version just right or swerving out of control.
Instead, the Tiger Jaws keep it straightforward by beginning the record with "In Between Days" from the 1985 album The Head on the Door. It's complete with rhythmic acoustic guitar and the memorable keyboard riff that injects the chorus with energy. There's nothing inherently wrong Tigers Jaw's take. It's fine, pleasant even.
But what seems to be missing is the passion that Cure singer Robert Smith puts into his vocal performance.
His quivering, yet cutting voice is what makes for a Cure song. Although Tigers Jaw singer Ben Walsh has a good voice, it simply cannot compete with Smith's in the context of "In Between Days." What Walsh lacks is the emotion Smith had originally put into the song; it could have been easily balanced out with a different, more interesting arrangement.
Kevin Devine strips down the classic 1989 song "Lovesong" with a slower, mellower approach, most notably by a clean acoustic guitar and lethargic drumming. Devine's voice complements this take nicely, but it feels too laid-back. The original is quick and lively, which reflects the anxiety that surrounds Smith's notion of love. "Lovesong" is about being endless love, and we don't quite get that feeling from Devine. But perhaps we're just too accustomed to the original.
Much like "In Between Days," this song has been covered time and time again, and from acts from just about every genre, so it's easy to glaze over yet another version of it. Devine might have been better off picking a lesser known Cure song to send off Devinyl Splits No. 3 on a high note.
Kevin Devin/Tigers Jaw – Devinyl Splits No. 3 tracklist:
Tigers Jaw – In Between Days (The Cure Cover)
Kevin Devine – Lovesong (The Cure Cover)