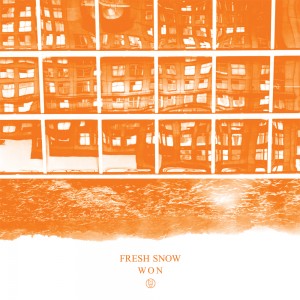 Release Date: September 11, 2015





From beginning to end, Fresh Snow's album Won ranges from beautifully crafted arrangements to straight-up noise, a title the band wears proudly. Won is filled with moments of delicately constructed instrumental ballads and, conversely, hectic flashes of deliberate panic and disarray.
Fresh Snow is, above all things, an instrumental band. Relying on musicianship instead of vocal melodies or lyrics can become a challenge to any musician. Fresh Snow does not have this issue. The band's droning keyboards, funky bass lines, and whatever else it can throw into the mix is always on fire. Twinges of amazing musicianship are always present within Won, but a heavy layer of distortion unfortunately buries it. Regardless, Fresh Snow has its shit together—and they don't even have a singer to depend on as the showrunner.
Won is like a modern take on the jazz aesthetic: it's hectic and allows each instrument to have its own moment. Each musician take turns showing off, especially in the album's first track "King Twink Rides Again," which sounds like a constant battle among instruments. After hitting the seven-minute mark, a ferocious horn section roars the song to a conclusion. It gets incrementally louder, and at the very end, the instruments breathe a sigh of relief after a rigorous race.
Most of the album is noise. Think about tuning a radio to fuzzy static.
Fresh Snow takes a rest from outplaying one another with "Proper Burial," one of two songs on Won featuring vocalists. Carmen Elle, from the bands DIANA and Army Girls, lends delicate vocals to the song. In spite of buzzing keyboards and a driving bass line that actually lends itself nicely to Elle's performance. The contrast of soft, feathery vocals and a funky bass part won't throw off the listener. These are simply two elements of the song that just happen to work together harmoniously.
"Don't Fuck a Gift Horse In The Mouth," the alarmingly titled final song on Won, features Fucked Up vocalist Damian Abraham. Abraham's vocals can barely be heard against Fresh Snow's instruments, which fuzz out as straight-up noise.
Fresh Snow as a concept may be too difficult or dense for someone who is used to vocally-driven music. With songs well over ten minutes that feature more than enough disorienting auditory facets, it'll take the most of one's patience. Won is not an album to just throw on as background noise after a long, tiring day of work. It must be intently listened to, and it requires the listener to actively acknowledge its presence. In Won, Fresh Snow screams, "Listen to me!" It's quite hard not to.
Fresh Snow – Won tracklist:
"King Twink Rides Again"
"Proper Burial"
"Blood In The Sun"
"Delft"
"Don't Fuck A Gift Horse In The Mouth"