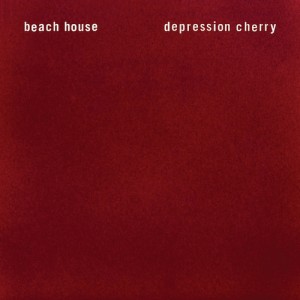 Release Date: August 28, 2015





From beginning to end, Beach House's new album Depression Cherry proves to be a powerful beast that encapsulates the band's laid back, introspective ambiance. Beach House gives the listener another set of beautiful melodies that feature breathtaking, resonant sounds only possible from the minds and souls of singer/keyboardist Victoria Legrand and multi-instrumentalist Alex Scally. Together, Legrand and Scally have composed some of the most unique songs fans of dream-pop will have the pleasure of listening to. With Depression Cherry, Beach House adds another impressive cultivated achievement to its catalogue.
Depression Cherry is a much louder album with the same identifiable Beach House tendencies, like its trademarked soundscapes that can overpower an entire room. The stunning loudness Beach House manages to produce out of just keyboards and synths is never an abrasive feeling; it's authoritative, but genuinely sweet, and often dream-like. The haunting "PPP" is a generous six minutes long, but, because of its ability to allow the listener to escape into an otherworldly dimension, it never feels excessive. The songs have become, if it was at all possible, more dreamy than the band's previous works. Beach House has continued to grow, both lyrically and musically, in each album it produces. Depression Cherry is Beach House's attempt to explore the way in which one manages to navigate through every moment in life.
Depression Cherry has been stripped down of natural music elements, specifically the lack of live drums, and this may be why the album is so much dreamier.
Beach House relies on pre-programmed drumbeats, which are very similar to patterns the band has used in the past, specifically in their 2010 album Teen Dream with mellowed-out songs like "Walk in the Park."In fact, most of, if not all of, Depression Cherry is full of electronic instruments, not that Beach House has ever been known for whipping out an acoustic guitar. Droning keys and synths are defining elements of Beach House, and Depression Cherry is yet another way in which it has dominated and perfected its craft.
One of the fundamental components of a Beach House song is a Legrand's angelic yet gruff vocal performance. Much like Depression Cherry's compelling composition, Legrand's voice boasts through every note, each more powerful than the next. But her vocals seem to float softly, which contrast the record's dynamic arrangement. When she explores her lower register, especially in the album's first single "Sparks," the song effortlessly follows in her footsteps.
While we get much of the same things that Beach House is loved for, like Legrand's compassionate vocals and unparalleled sound, the band hasn't given up on challenging itself. By stripping away the familiar and comfortable in Depression Cherry, Beach House has given its listeners a refreshing take on its odd and peculiar way of looking at the world.

Beach House – Depression Cherry tracklist:
"Levitation"
"Sparks"
"Space Song"
"Beyond Love"
"10:37"
"PPP"
"Wildflower"
"Bluebird"
"Days of Candy"