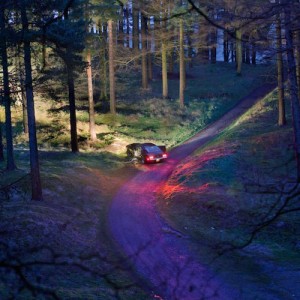 Release Date: April 7, 2015





Drenge's Undertow is only its second release, having released a self-titled album in the summer of 2013, and yet the album is exceptionally executed. Carefully formulated with heavy, echo-y guitars and powerful, non-stop drumming, Undertow is on its way to be a huge success for Drenge because of its dynamic and emotionally honest songs. Undertow is, quite simply, straightforward rock 'n' roll. There aren't any flashy tricks or gimmicks to muddy the songs. Drenge seems to know exactly what kind of band it wants to be. Maybe it's a sibling thing, but Drenge members Eoin and Rory Loveless hear each other through and through; they're expert communicators and collaborators.
The listener is lured into Undertow with an eerie and almost primal introduction that leads into "Running Wild," which tackles the fear associated with getting older, concepts that may in fact scare the twenty-something Loveless brothers. The instrumentation of the track represents this fear as well. The lead guitar seems to stalk the listener, to warn them of letting their adolescent years slip away.
In "We Can Do What We Want," the influence of blues music is clear, but is by no means a standard blues song. Instead of slowed-down, showoff-y licks, the guitar dashes its way through, which resembles The Ramones more so than Buddy Guy. The lyrics can be quite tongue twisters, with lines like, "Balaclava on my boyfriend's head, like he said/We've got to get away from living like the way we've been bred/Won't know what's hit them like a bat on the back of the head," which Loveless sings without a breath in between.
The guitars, vocals, and drums seem to be racing each other to be faster and louder. Still, they complement each other and the song's theme of not giving a fuck.
Drenge recruited producer Ross Orton for Undertow, and compared to Drenge's debut album, the production quality is like day and night. Instead of sounding like separate entities, all the elements of Drenge's songs now feel like fully thought out ideas, where all the instruments agree with one another. One issue Orton wasn't able to work through is properly mixing the vocals. They are often masked by the sometimes too powerful guitars, and the effects utilized can be overused, which is a shame seeing as the elder Loveless' vocals are sharp and unparalleled. Regardless, Undertow is a step forward for Drenge.
It's hard not to notice the incredible drumming on Undertow, especially in songs like "Standing in the Cold" and "Side By Side." The younger Loveless is certainly a knowledgeable and skilled drummer. His work ethic is obvious; he's one of those musicians that practices for hours everyday. Loveless' writing is engaging and unpredictable, and his tone is solid and defined. In a world of bland drumming, with drummers like John Bonham and Keith Moon far from recent memory, it is refreshing to see someone like Loveless, a young and ambitious musician, challenge his peers.
Undertow will surely be the factor that launches a very long and victorious career for Drenge. It's a killer album with simplistic and natural qualities that are sometimes hard to find in the midst of samples, electronic drums, and Pro-Tooled-to-hell radio rock. The band has already played Letterman and are booked up with European tour dates for the spring. Drenge has some mighty good prospects on its horizon.
Drenge – Undertow tracklist:
"Introduction"
"Running Wild"
"Never Awake"
"We Can Do What We Want"
"Favourite Son"
"The Snake"
"Side By Side"
"The Woods"
"Undertow"
"Standing In The Cold"
"Have You Forgotten My Name?"