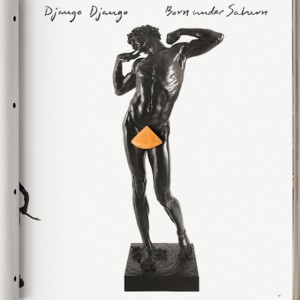 Release Date: May 5, 2015





Born Under Saturn is the second effort from British, genre-defying band Django Django. In the group's short existence it has already received national attention for its self-titled debut in 2012. Riding that wave, the band took its time to explore musicianship while making this album. Born Under Saturn builds on Django Django's versatile reputation.
The band could be considered a rock band with their utilization of guitar, bass, and drums; however, most songs include a synthesizer. Samples are scattered throughout the album, as well. Regardless of differing styles, the songs feature catchy melodies courtesy of the synthesizer, guitar, and tambourine. Django Django's sound might be described as dissonant or cacophonous, but the band has mastered the art of layering and controlled experimentation. Django Django is very comfortable testing out new sounds, like with the saxophone solo in "Reflections," or the electronic samples in "4000 years" or "Vibrations."
While the album's instrumentation is vital to its stellar upbeat themes, vocalist Vincent Neff takes them to another level.
His vocals are somewhat distorted, but still light and airy. The layering of multiple melodies from pianos, synthesizers, percussions, and electronic samples on songs such as, "Pause Repeat" and "Reflections," are definite factors in their catchiness, but without Neff's vocal shifts in pitch, the tracks wouldn't be the earworm it is.
The lyrics in "Born Under Saturn" follow the same theme of experimentation the other elements of the album do. Most songs speak of nonsensical topics, holding no apparent meaning, like, "We work these mines for far too long set our lives in stone/The tracks that led us down are overgrown," in "Reflections." The lyrics might have been an afterthought, and the emotions of the band might be truly communicated through the production. Even though Django Django doesn't speak of heartbreak or political issues, the lyrics are still catchy.
Django Django embraces its lack of genre classification, seeing it as a freedom to try new things and not be reprimanded for sonically venturing out. The band still has a distinct sound—one that's upbeat and playful in tempo.
Django Django – Born Under Saturn tracklist:
"Giant"
"Shake and Tremble"
"Found You"
"First Light"
"Pause Repeat"
"Reflections"
"Vibrations"
"Shot Down"
"High Moon"
"Beginning to Fade"
"4000 Years"
"Breaking the Glass"
"Life We Know"