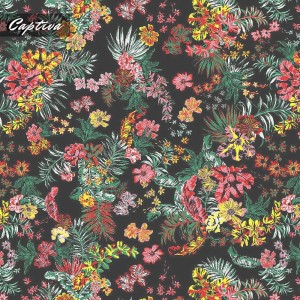 Release Date: December 4, 2015





Like the coastal Florida island they're named after, Kansas City foursome Captiva brings the ocean to the American heartland with their self-titled EP. Their debut struggles to find its legs, but they deliver a beachy promise, even if that coastal energy feels more like the Pacific than the Atlantic.
They kick it off with the raucous "Road to Ruin," which is also the band's lead single. But these decisions surprise me, not only because "Road to Ruin" does not represent the rest of the band's debut—lead singer JJ Ries' voice reverberates from garage-studio walls that disappear on the other tracks—but also because 4:47 is an intimidating length for a high-energy pop-rock song. As "Road to Ruin" starts, the aggressive and jaunty chords that suggest a Mad Max-ish desert speed excite you.
But then you're abandoned in a chorus that lasts about twice as long as it should, grinding its musical motifs into uninspiring dust and not compensating with compelling lyrics. It's a shame, because the bridge would be a delight of playful guitars and careful buildup if your ears weren't fatigued by the time it arrives.
The other three tracks on Captiva land the band somewhere on the California coast between the Red Hot Chili Peppers' LA funk-driven strumming and Young the Giant's atmospheric Orange County ocean vibes. "Stimulating Freeze" follows "Road to Ruin" and you can feel the band relax audibly, as if the pressure to create some magical garage hit has ended and now they can return to their base lounge state.
This actually turns out to be pretty groovy in a night-at-the-beach sort of way.
"Chemicals" is the standout track on the EP, both lyrically and musically. It dances hard at the beginning, adrenaline the chief chemical flowing behind Ries' eyes as his bandmates (Patrick McQuaid on guitar, Nick Riffle on bass, and Hank Wiedel on drums) create an edgy pop-funk riff ready for a bigger stage. But to me, the song peaks at its drop into a slow, reggae-like jam at the end. It changes its momentum without altering its spirit and thereby flows like a refreshing breeze.
"Sometimes," the EP's closer, is almost a mirror image of "Chemicals," starting with Ries' languid assertion that "sometimes [he takes] drugs" to navigate the worries of life with careless ease but building into a cosmic groove featuring a subtly huge synth layer and excellent work by the rhythm section of Riffle and Wiedel.
The members of Captiva are still young — all in college — and in their nascent stage of wondrous self-discovery, a mixed-bag EP is to be expected. If they move in the direction of "Chemicals" and its moonlit seaside dance party, and away from the aptly named "Road to Ruin," they'll find a unique voice in the lo-fi pop-rock world.
Captiva – Captiva tracklist:
"Road to Ruin"
"Stimulating Freeze"
"Chemicals"
"Something"