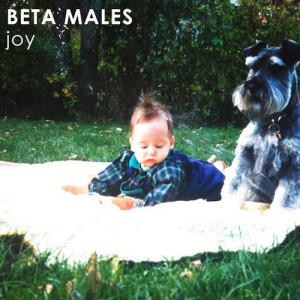 Release Date: December 6, 2015





In the The Beta Males' latest release, joy, Tory P-Lopez succumbs to hopelessness and loneliness as he skirts his way through a horrible relationship. But when Lopez is at his most vulnerable, the record becomes a powerful experience for the listener — and, as for Lopez, the record becomes a revelation of the love that was never meant to be.
Due to his penchant for acoustic guitars and beautiful-yet-melancholic lyrics, Lopez probably gets told too often that his songwriting resembles the works of Elliot Smith. But he also puts his own soulful heart and musical thumbprint into his songs; this is not just a mere replication of Smith's music.
In fact, he has a strong sense of who he is as a songwriter. Though only four songs long, joy feels like a meditation by Lopez. His songwriting is often seamless and never jarring. Maybe he owes this to his friend Spencer Tweedy who jumped on the project for his production, mixing, and mastering expertise (acquiring this from his father Jeff, of course). And yet, regardless of who was sitting behind the mixing board, Lopez's songs still shine through.
Lopez's lyrics never feel convoluted nor contrived.
Lopez knows how write about falling out of love, or describing love that was never there to begin with. In "Let Me Down," he sings "Is love an accurate description if it disappears like it wasn't there at all?/It's something you never liked to talk about/I love you but time is running out." The words he sings feel tender and they ache.
And his lyric writing does not overshadow the music itself. Sparse drumming and softly strummed guitars create an soundscape that surrounds the songs like an amphitheater. The addition of female vocals in "I Won't Pick Up" and "Earlybird" by Eanna Sheena adds much needed tension.
Only two EPs deep now, Lopez has already found who he is as a songwriter. Even if he writes about heartache for the rest of his career, it'll be true.
Beta Males – joy tracklist:
"Let Me Down"
"Temporary"
"Earlybird"
"I Won't Pick Up"