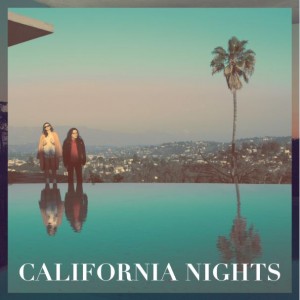 Release Date: May 5, 2015





Best Coast, comprised of singer/guitarist Bethany Cosentino, guitarist Bob Bruno, and drummer Brady Miller, perfectly blend a fuzzy, lo-fi sound with some pop tendencies, creating music that's immediately recognizable as its own. With its signature surf-rock/noise-pop influence, the band's new album, California Nights, focuses on its staple themes—complicated relationships, moodiness, and life's confusing twists and turns—creating an album that's perfectly classic Best Coast.
As in past albums, Cosentino shows her skill writing lyrics that are relatable and understandable in their simplicity. As upbeat as Best Coast's music can be, its lyrics run on the darker side, not unlike the band's homestate, California, which is often seen as a paradise even though it faces many problems of its own.
The name of the record references the night, a dark time when Cosentino seems to have the most trouble.
Best exemplified in "Sleep Won't Ever Come," Cosentino sings about trying, and failing, to feel anything other than despondence, fearing she won't snap out of it. Beginning with a gritty guitar, Cosentino croons, "I close my eyes at the end of the day/Nothing seems to be going my way." Another guitar comes in, this time more soaring, accompanied by buoyant drums. "I blame it on my mood/I blame it on the world 'cause it can be so cruel," she sings, bringing it all back to the shadows lurking in the corners of her surroundings.
California Nights may seem slightly more clear-cut in sound than Best Coast's first album, Crazy For You, which has a more lo-fi quality. It doesn't lack the band's distinctive sound, though. "Jealousy," "In My Eyes," and "So Unaware," feature prominent, grungy guitars that supply a fuzzy backdrop, much like the Dum Dum Girls or Surfer Blood. The songs are perfectly suited for feeling angsty while skateboarding around town in a flannel and Chuck Taylors. Best Coast recorded the album with producer Wally Gagel, whose recording experience runs the gamut from Miley Cyrus and Rihanna, to Superchunk and The Rolling Stones. With California Nights, Gagel has helped bridge the gap between Best Coast's gritty rock and upbeat pop influences—it's the middle ground between the band's first album, Crazy For You, and its pop-y second album, The Only Place.
California Nights' sound isn't all about having achieved that perfect harmony. The album's title track is a psychedelic departure for the band, yet it works seamlessly among the rest of the songs. It begins with Best Coast's ever-present, overdriven guitar, followed by Cosentino's voice, echoing and overlapping verse after verse. "I stay high all the time/Just to get by/I climb into the sky/And my eyes, they cry," sings Cosentino. Drums come in as Cosentino croons, "California nights make me feel so happy I could die."
It's an epic jam dedicated to the place that inspires Best Coast the most.
Listening to it evokes images of a stereotypical West Coast sunset, all orange and pink behind an outline of palm trees, with the scent of weed filling the air. The song ends with Cosentino's reverberating voice fading out, leaving listeners feeling as though they've been on a trippy, kaleidoscopic, and utterly enjoyable ride.
Best Coast reminds us that life can suck sometimes, but home will always call us back.
Best Coast – California Nights tracklist:
"Feeling Ok"
"Fine Without You"
"Heaven Sent"
"In My Eyes"
"So Unaware"
"When Will I Change"
"Jealousy"
"California Nights"
"Get Outta My Head"
"Run Through My Head"
"Sleep Won't Ever Come"
"Wasted Time"