When singer-songwriter Andrew Belle changed his name about six years ago, he knew the switch would be awkward at first, but he stuck with it, because it was something he needed to do.
"It's kind of embarrassing because all my friends and family were like, 'What? Are we supposed to call you Andrew Belle now?'" He says. "I knew in my gut that it was going to be awkward at first, but I just had to hang in there and push through, and eventually people would get used to it.'"
Before the name change, he had honed his craft as Drew Fortson by playing a regular schedule of shows at open mics and Potbelly's sandwich shops all over the Chicago suburbs near his hometown of Wheaton. At 24, he made another abrupt change by moving to Nashville, which kickstarted his career. Since then, he's racked up a rather impressive resume: his songs have appeared on TV shows like "Grey's Anatomy," "Pretty Little Liars," and "One Tree Hill;" a 2009 John Lennon Songwriting Award; MTV's "Best Breakout Artist, Chicago;" and an incredible amount of critical praise for his independently-released EPs and two full-length albums, The Ladder and his latest, Black Bear, which came out in August of this year.
Belle, who is now 29 and lives in Evanston with his wife, talked to Pop 'stache over the phone about how he started his music career, his name change, his recent album and his plans for 2014.
Pop 'stache: When did you decided to start releasing music under your stage name "Andrew Belle"?
Andrew Belle: It was in the winter of 2007. I was making music that sounded a bit different. I wanted a fresh start, and I felt like I wanted to go in a new direction musically. I was maturing as a songwriter, but also as a vocalist. I never grew up singing, so I was just teaching myself all along, and my voice was developing. When I finally realized what my tone would be as a singer, it didn't really sound like what I was doing before, so I just decided I would create a pseudonym to represent that.
P's: What were you originally planning to do before you started pursuing music?
AB: I was going to school for business. That kind of had me on a certain track, and yet, after graduation I didn't pursue that in any way. I graduated and put my degree in a drawer, and I started waiting tables and started playing songs. I thought that I should at least give music a shot while I was coming out of college, being single and unattached.
It just felt like a good time to take a shot at music if I ever was going to, and if it didn't work, no harm done.
To be honest with you, the last seven years I've been blindly stumbling along, piecing it together and thankfully, I've been able to grow and have fallen into a lot of opportunities that have basically allowed me to have a career. It's funny when I think about the fact that Iam a musician in the first place, because I didn't grow up playing music. My sisters were the ones who were singing and taking piano lessons and playing recitals and those things, and I was never really interested. The whole idea that I play music for a living is kind of a funny joke in my family.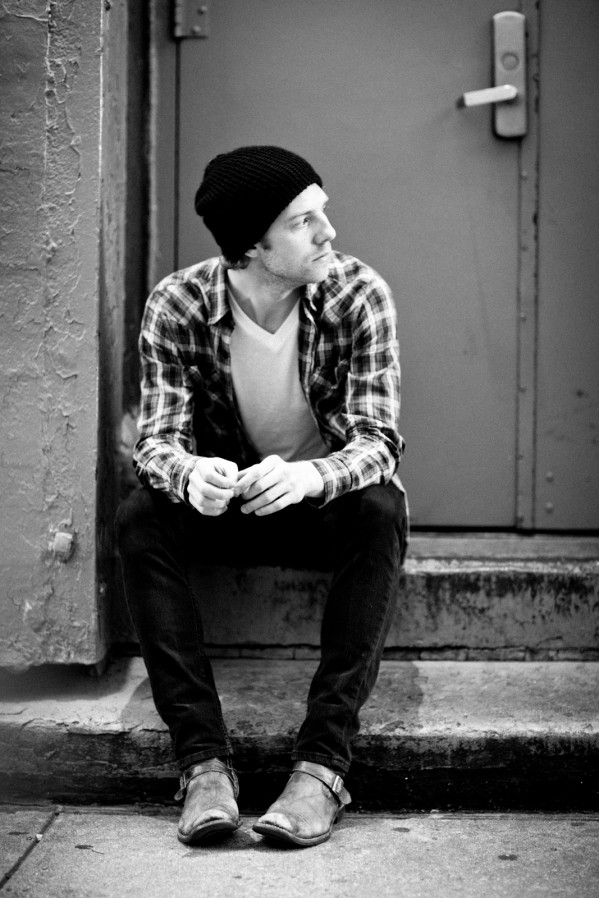 P's: How did you transition from playing covers at open mics and other venues to writing and playing your own songs?
AB: Potbelly's hired me to play covers, because people want to hear songs that they recognize, so that was the bulk of what I would play. But I would sort of start sneaking in a couple of my own songs here and there. I taught myself how to perform and how to sing by playing other people's music, because I didn't have anyone else teaching me. I learned by mimicking what other artists were doing and sounding like. That's how I eventually wrote my first record The Ladder. I found the sound for that album and the sound for how I sing by playing other people's music.
The one thing that I always felt like was sort of a constant for me was my songwriting. That was what I enjoyed in the first place. My weaknesses were in performing, but I clung to the fact that I knew I had a talent for the writing part. I knew that as long as the writing was good, I could work on the other stuff. So I kept at it, for a long time, and accidentally figured out how to sing and how to play music. That's what got me through those first couple years, just clinging to the fact that I felt like I could at least write a decent-sounding song.
P's: What's the big difference between your first album, The Ladder, and Black Bear? Black Bear seems a lot different-more cohesive thematically. Was that intentional?
AB: Yeah, it definitely was. From a songwriting perspective, I wrote The Ladder and Black Bear similarly. I wrote all those songs all at once for each one, so a lot of the same lyrics and themes pop up in both albums. But when we made The Ladder, we were a little discombobulated. Some of the songs sound more organic and raw, and some of the songs have more of a "quirky pop" sound, or a piano pop sound. It was a little all over the board.
Black Bear is a lot more uniform and a lot more concise, in terms of the production and the sounds that we were going for, and I think that's really just a testament to growing and experience.
When I made The Ladder, I'd grown a lot, but I still didn't totally know what I was doing. In the last couple years I've gotten a lot better at honing in at what I'm good at and what I'm not good at, so with Black Bear I made a concerted effort to play up my strengths and what I know I'm good at and what sounds good. Also, the producers I worked with were really conscious of staying in the same realm with the sound. For that reason, if I had any explanation for the difference, I'd say it's about maturity.
P's: When you do write songs, do you set aside time every day to make sure you're doing it, or do you only write when you're feeling inspired?
AB: I probably should do it every day, or at least often, but I don't. My only experience with writing is that it comes in seasons. I wrote The Ladder all at once in the fall of 2008, and then I wrote Black Bear all at once in the summer of 2012. So it seems for me, I write a bunch of songs, I get it all out there and then I'm done for a while, and a little bit of time goes by and I do it all again at once. I don't know why that is – probably because the songwriting process is a bit exhausting, so I do it all at once and then I take a break for a while.
P's: 2013 is almost over – what are your records of the year?
AB: Hold on, let me check my Spotify. There's a band called Snowden that put out a new album that was really good this year, No One In Control. I really like the new Daft Punk album. I really like – this is no secret, but I really like Lorde's album. Whoever produced and made that record for her is awesome. Also, Paracosm by Washed Out.
P's: What are your plans for the new year?
AB: We did a lot of touring between May and November, pretty much between last Memorial Day and Thanksgiving, which is a bunch of days and a bunch of shows, so we're taking a break after this show next week to have some time to be home, working on various projects, and other things.  Then in March, we're going back on tour with Diane Birch. I'm not really sure what else is going to start developing after that, but the plan is to continue to get out and tour and put out some new music and stuff. 2014 is a little bit of a question mark, but we'll definitely be active and doing things, I'm just not totally sure what it is.