Everyone has their guilty pleasures, but I refuse to feel guilty about my love for Nickelback. From interviews, it's clear the band is tired of being "everyone's bitch," and I'm tired of them being everyone's lame-ass hard rock punchline. Unlike those apologists at Consequence of Sound who just published their list of the "least awful" Nickelback songs (in which some writers actually admit to liking a few), I am unapologetic about my love for the group.
Nickelback is far from being "lame-ass," and I believe they do rock hard. True, the Canadian quartet doesn't have the heavy metal bona fides of its distant ancestors Led Zeppelin and Black Sabbath, and critics argue that the band has watered down the formula so much as to be a mere trickle compared to the flood of power that brought us "When The Levee Breaks" and "Paranoid."
But if AC/DC can get away with using the same crunchy metal power chords again and again while singing the same songs about sex and speed, then why is Nickelback singled out as formulaic drivel? At least Nickelback dares to throw in the occasional ballad and tweak its formula with genre and lyrical experiments.
Some will no doubt maintain that Nickelback suffers from a surplus of earnestness, but why does U2 get a pass on that front?
Others posit that Chad Kroeger and company lack a sense of humor, but take one listen to "Rockstar" and it's clear that the opposite is the case. Penned from the perspective of a loser who can't even get into clubs, Kroeger aspires to have his name on a star between Cher and James Dean, singing, "It's like the bottom of the ninth and I'm never gonna win" and moving quickly to, "I want a brand new house on an episode of Cribs/And a bathroom I can play baseball in."
Name a Pearl Jam song that has as much humor in it, that ventures to be so self-effacing and willing to poke fun at itself. Only Joe Walsh's "Life's Been Good To Me (So Far)" and The Offspring's "Pretty Fly For A White Guy" pack as much punch in terms of blowing the wind out of pop culture's sails.
Critics have also lambasted Nickelback for its clichéd and hackneyed lyrics, but has anyone ever analyzed Foo Fighters lyrics? Yes, Dave Grohl used to be in Nirvana and knows how to craft great melodies, but if you analyze his lyrics, they're nothing more than a string of clichés and random song titles stolen from other, far superior bands.
There is no question that Nickelback's music is produced with a glossy sheen, but the same could be said for a lot of '80s hair metal that gets a pass either because of its rocking guitar parts or the listeners' blind nostalgia for their far more over-the-top misogyny: think of Poison's "Talk Dirty To Me" or Def Leppard's "Pour Some Sugar On Me."
While not adventurous from an indie-rock or alternative rock perspective, Nickelback's new record, No Fixed Address, finds the foursome taking more risks than ever.
Like every outing from them, it's not perfect, but for the most part the record is an enjoyable listen, especially for fans like me.
The first track fades in and then revs up to a "Million Miles An Hour," and it's clear that Nickelback has its crunchy rock guitars driven with the pedals to the metal. "Edge Of A Revolution" is a rocking, galvanizing call to action, whereas "What Are You Waiting For?" is an inspirational power ballad. "Satellite" may not be brimming over with new ideas, but it does feature some clever wordplay (at least by Nickelback standards), using the title concept as a metaphor for dancing around the bedroom. "Get 'Em Up" assumes the perspective of thieves executing a robbery, seemingly glorifying their point of view, but of course (not really a spoiler alert), the band of thieves gets its comeuppance in the end. "Runnin' Round" has a sing-along chorus, a compelling groove, and guest vocals from Flo Rida.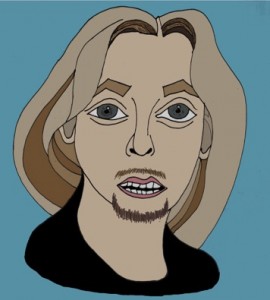 Yes, this running order is a bit predictable, alternating between rocking numbers and Top 40-ready power ballads, but the concluding cut, "Sister Sin," nicely merges both approaches.
The song begins with a twangy acoustic guitar part before opening into a wide, sprawling orgy of guitar crunchiness and down-and-dirty vocals from Kroger's croaking cords. It's hard to tell whether he's singing about "Nancy Sin," "Sister Christian," the band Sister Machine Gun, or his recently minted ex-wife, fellow Canuck Avril Lavigne, but it's clear the object of his affection/obsession/vindictiveness is someone for whom he is harboring mixed emotions.
Mixed emotions describe my feelings about No Fixed Address. Perhaps it will elicit guffaws of laughter from my colleagues in the world of music criticism to even attempt the exercise, but if one were to rank their recordings, this album is neither the best Nickelback record, nor the worst. As one might anticipate, considering the title, it does meander a bit; it's at times too predictable and at others not entirely successful in its genre "experiments" (a word I use loosely). But I'm sure my expectations are higher than most.
Lots of critics will no doubt add it to their "bottom of the barrel" lists for 2014, their annual turkey shoot, or even use the CD for actual skeet shooting practice, without even giving it more than a cursory listen.
Early sales figures don't look promising, either, especially coming at the end of the year with the platinum juggernaut Taylor Swift and Pink Floyd's "return" bringing a total eclipse of their sales.
If you give No Fixed Address a fair shot, though, you'll discover what makes this band memorable and worthy of consideration. Nickelback crafts winning melodies and possesses a gift for composing rockers and ballads that not only fit atop the pop charts, but should also be considered an integral part of the pop pantheon—not just a punchline.