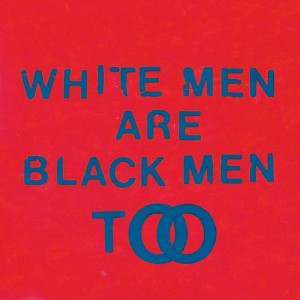 Release Date: April 7, 2015





Unlikely production and bizarre rhythms will catch listeners' ears on Young Fathers' new album White Men Are Black Men Too. The album is the trio's follow-up to its Mercury Prize winning Dead. Critics and listeners alike try to put Young Fathers in a box, saying it's one genre or another, always landing on some hip-hop/punk/pop/rock hybrid. Young Fathers is really a sonic smorgasborg.
The album is a progression from Young Fathers' previous work, but still particularly distinct. A combination of numerous styles, White Men Are Black Men Too takes listeners through a strange ode to being alive in 2015 with relatable lyrics and an instrumental style that's very contemporary.
The album's sounds contort in peculiar, intriguing ways with vocals teetering on top. Each track is explosive with layers upon layers pushing the boundaries of what could be sonically "too much." The intent seems to lean toward making the listener uncomfortable or having visceral reactions.
While the unruly track "Feasting" crashes, its bass throbs as aggressive shrills blend into the beat, maintaining a feeling of levelheadedness. The track begins soulful and eerie before shifting into an overload of jingles, bass, and percussion accented by a call to "settle down" in the background.
Young Fathers has a sound that can't, and shouldn't, be labeled.
The combination of hip-hop, punk, rock, and worldlier sounds create a multidimensional vibe that is specific to the trio. Young Fathers' music may remind listeners of other things, but never to the extent of duplication or clear influence. The band is experimenting endlessly. "Still Running" is a wild and epic opening to the album, youthful and uninhibited; "Get Started" ends the album beautifully and gospel-like.
Lyrically, Young Fathers is cryptic and poetic. "Old Rock 'n' Roll" is perhaps the closest the trio gets to a hip-hop track; while the beat is more unorthodox clamoring forward, the lyrics are spit like rap bars, "I'm tired of playing the good black/I'm tired of having to hold back," is sung with a venomous edge. This track also includes that confusing album title, "Some white men are black men too." Young Fathers typically use political lyrics. White Men Are Black Men Too can be quite poignant, but not to the same extent that the band's previous album Dead was.
Another lyrically intriguing moment happens in "27." Every member of the trio is currently 27, the age at which many musicians, including Janis Joplin, Jimi Hendrix, and Kurt Cobain, all died. That extensive list of artists, dubbed "The 27 Club," all influenced this track. While a xylophone puts a twinkle on the song, it's a morbid track. That juxtaposition of instrumentation and lyrics is common throughout the album. Like with "27," the poppier tracks don't necessarily have lyrics to match.
Young Fathers created a sound that is both constantly referential to past times, sounds, and places, yet uniquely the band's own. Sometimes it has vibes similar to early TV on the Radio, experimental hip-hop Shabazz Palaces, Flying Lotus beats, and even old-school Outkast-turned-jazzy. The sound is idiomatic and universal, creating both a relatable and distanced work. White Men Are Black Men Too is sonically complex—a hodge-podge of sounds that's surreally distinct.
Young Fathers – White Man Are Black Men Too tracklist:
"Still Running"
"Shame"
"Feasting"
"27"
"Rain or Shine"
"Sirens"
"Old Rock 'n' Roll"
"Nest"
"Liberated"
"John Doe"
"Dare Me"
"Get Started"